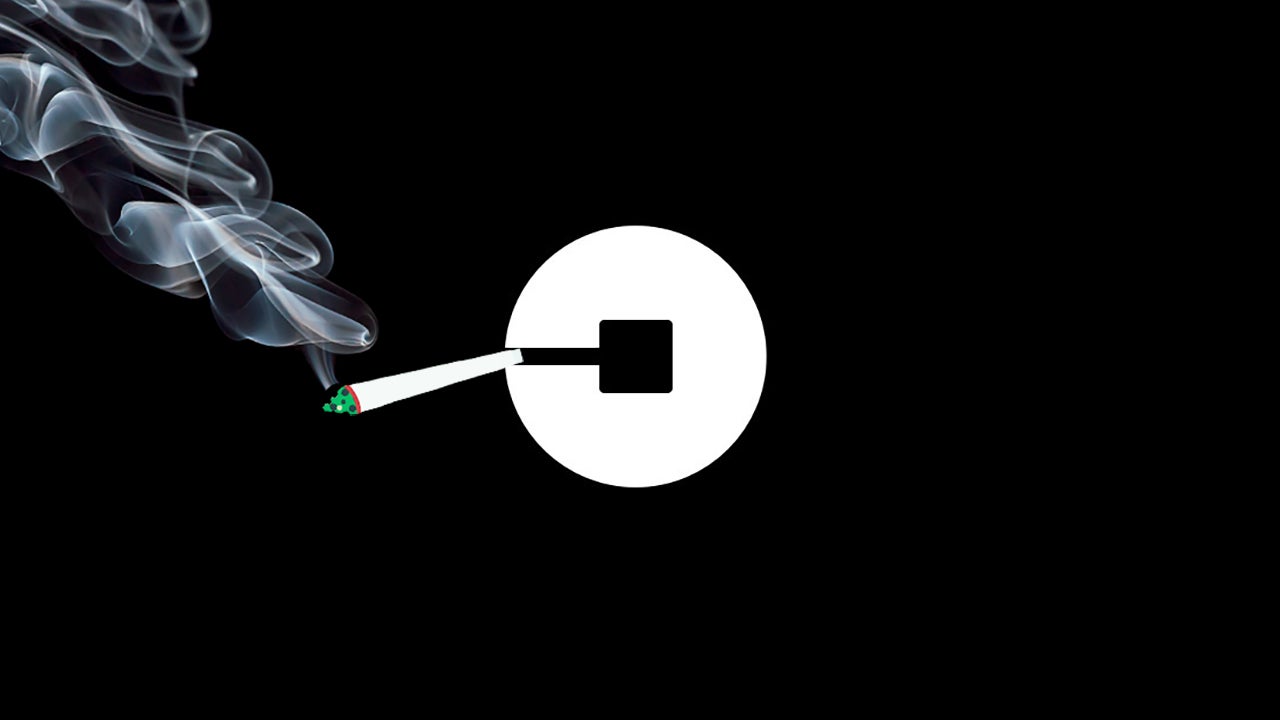 The cool thing about Uber is that it lets virtually anybody become a taxi driver. The downside? Sometimes, without any safeguards in place, those amateur drivers do things that are against the law. Like driving passengers while they're high as hell.
Illustration by Adam Clark Estes
Below we've compiled a list of just a few people who think that their Uber drivers were high. Precisely 101 people, to be exact. In some cases, their Uber drivers were kind enough to share a joint with them. In others, the passengers had to watch as their Uber drivers got out of the car to do push ups on the side of the road.
Some people found it funny that their Uber drivers were stoned off their asses. Other passengers were clearly worried about their personal safety. Not that it matters, but every US state that has legalised marijuana for recreational use bans people from driving while high. Recreational marijuana remains illegal in Australia.
I reached out to Uber to ask about their policy on drivers operating under the influence. I'll update this post if I hear back. But I'm not holding my breath. Get it? I said I'm not holding my breath. Because of the weed drugs. Not holding my breath. You get it. I know you get it.
my Uber driver is high, he just stopped at a green light

— babyboy? (@fathior3k) November 13, 2016
My uber driver high as hell

— Andrea (@vndrear) November 13, 2016
My @Uber driver is high as balls ????

— Donnie Carney (@DonnieC443) November 13, 2016
Here's my Uber driver. High out his mind doing pushups by the side of the road. It was not a joke @Uber. It happened pic.twitter.com/xt5F1StY26

— Surgeoner Tru (@ItsHarmless) November 13, 2016
Tell me why my uber driver is so lit right now. Came to my house bumping and his car smells like weed #okaybruh #sure

— Kristen Davalos (@KristenDavalos) October 10, 2016
i just got high as fuck w my uber driver

— sum vegan girl ♡ (@kikihbuu) November 16, 2016
my uber driver is high af i'll have what he's having cause this shit smells strong

— liza. (@strippedgardens) November 19, 2016
My uber driver's car smells like weed. He's higher than the clouds rn.

— December 24 ? (@vanessaracquel_) November 16, 2016
My uber driver was so high ???????

— Baby Maker (@khandityise) November 22, 2016
my Uber driver is high as fuck right now

— Ana (@ladyhiphopx) November 26, 2016
Wow my @Uber driver is EXTREMELY high and you can smell the weed from like 3 feet away from her car but here I am on the highway with her...

— The Classy Gay™ (@The_Classy_Gay) November 27, 2016
My Uber driver smells like weed and wants me to know he has "all my fingers AND toes" pic.twitter.com/3fCqfP1LAn

— Jenna (@RillaCuthbert) December 14, 2016
YO IM SMOKING A JOINT WITH MY UBER DRIVER

— h (@YoungGawhd) September 18, 2016
my UBER DRIVER IS SMOKING A JOINT

— Tana Mongeau (@tanamongeau) November 30, 2016
My uber driver told me he's high so if he crashes it's not his fault and don't tell anyone

— Vince Famiglietti (@RupertPupkin_18) December 4, 2016
My uber driver is so high that he just thought the stoplight was a stop sign..

— yung jean (@jeanettek_) December 4, 2016
My Uber driver is clearly high right now ?

— StarGyal (@KelSamLiz) December 7, 2016
I can't even begin to describe how high my uber driver is RN. Jesus. #turnbyturn

— Kyle LaMere (@KyleLaMere) December 9, 2016
My uber driver is high as shit

— Melanie (@melanie_leonn) December 16, 2016
my uber driver is high af and he sounds mad ... im gonna die ...

— yessi (@nflyingpri) December 17, 2016
My Uber driver is high af rn I'm sCREAMING xjjxjzjxnxkz

— ☾ thomas halbert (@ThomasBeautyy) December 20, 2016
My @Uber driver is so high. Keeps messing up the navigation while discussing how, the nav. makes "crazy" decisions for him. ?

— Herasanna Richards (@herasanna) December 27, 2016
My uber driver high af rn???? really in h re blowing down

— jay? (@PluckemJay) December 23, 2016
I feel like my uber driver is high asf rn lmao

— Hōkulani (@Hokugirl808) December 23, 2016
My uber driver is so high rn

— Anfreny (@Psychotic_Lies) December 23, 2016
I think my uber driver might be high?

— Victoria Knight (@Victoria_Vixxen) December 23, 2016
i think my uber driver's high, pray for me

— Tori Robertson (@toriaarosee) December 22, 2016
My uber driver is so high

— Oscar Lopez (@ohmyoscar) December 22, 2016
My Uber driver is very high. What a life to live.

— ugh packers (@jweiss713) December 21, 2016
My uber driver just picked me and her husky was in the front seat... and I'm pretty sure she's high... okkkkk

— △ (@M_Nycole__) December 21, 2016
I think my uber driver was as high as I was

— cop killer (@postmoderntease) December 21, 2016
my uber driver is so high...

— Kiara (@kiaramarks_) December 20, 2016
My uber driver must be high af bc he is all over the road.

— Jeff Vicroy (@jvicroy85) December 20, 2016
My uber driver was so high lmao

— OceanSunrise (@LynnyOoohh) December 20, 2016
My uber driver was high ass fuck. I'm only sad cause he didn't offer any ://

— arely (@areeely__) December 19, 2016
lmao, my uber driver is high

— C ? (@Amakaa__) December 18, 2016
The fact that my uber driver is high asf

— Daniela ✨ (@Daniiela__13) December 17, 2016
My uber driver is either high or this is his first day. Dude is currently doing 12mph on the grand central parkway.

— Brian Steves (@brainsteves) December 17, 2016
I think my uber driver is drunk or high and he's like 100 ? #prayforme

— leslie fischesser (@ukchamps) December 17, 2016
my uber driver's a Deadhead,
and i'm 99% sure he's over 60,
and 83% sure he might be high.

lmao, me too pal,, me too.

— 2016(66) (@_karoI) December 15, 2016
Pretty sure my Uber driver is high as fuck

— tanner schmiedl (@blueroomla) December 14, 2016
Got high with my uber driver earlier ??

— Ken Masters ? (@HoodArchitect) December 14, 2016
My uber driver is high...and he keeps talking to me. pic.twitter.com/Sif5Q6kpzs

— Amira :) (@amirruuhh) December 13, 2016
Okay so, I don't know if my Uber driver is high as fuck or just a creeper.

— bryan (@bryandean_) December 12, 2016
well my uber driver is high af bc hes convinced his car is engulfed in flames RIP

— Queen T (@tconocon) December 11, 2016
yo me and my uber driver are stupid high rn we straight turning up to cozy tapes ???

— Miguel De La Torre (@miiguelll525) December 10, 2016
Second hand high from my Uber driver who also has the same taste in music as me #HIPHOPNATION ?

— DJ cornbread (@t_landy) December 10, 2016
My uber driver high af lmao

— Moon Chile ? (@ohheyitsjaz) December 9, 2016
My uber driver was high as shit ..

— $$$ (@ObeyyAngiee) December 8, 2016
My Uber driver high asl ???

— Majestic (@C_breezy023) December 4, 2016
My Uber driver high af. He just apologized for the car smelling. He then pulled out a bottle of Glad and laughed saying he needs to get more

— Harrison Gimbel (@Harrison_Gimbel) December 4, 2016
Lmao I think my uber driver is high??

— Nikki De Leon (@nikkideleonn) December 3, 2016
Tell me why my Uber driver is a select but is high as fuck! Havin al these beads & Jamaica shit! Bro ur white! Askin me if I'm hungry? ?

— Q -Da HypeMan- (@FartboXQ) December 3, 2016
Why do I feel like my uber driver is high af be

— syd? (@Sydwards) December 3, 2016
My Uber driver doesn't hold the wheel at all omfg I swear I might die , wish me luck I think he's high too omggg LAMLLOOO

— jimena ✨ (@jimesegov) December 3, 2016
My uber driver high af ?

— ©-Los ? (@RelaxItsNatural) December 2, 2016
my uber driver looks just as high as i am. word.

— Jake (@_jakethedank) December 2, 2016
My uber driver high asf pray for me y'all.

— soul sista ✨ (@jaaaycarter) December 2, 2016
MY uber driver just messed around about being high rn. Bitch better get me to my location in one piece

— Alicia (@AliciaaaMichele) December 2, 2016
I think my Uber driver is high ... literally so uncomfortable right now

— bruja (@AlexisNoelle__) December 1, 2016
and my uber driver was high as fuck

— ? (@ramiesta) December 1, 2016
STORY TIME: MY UBER DRIVER GOT ME HIGH https://t.co/sOshnjoud4

— David Pridgen (@davidpridgen_) November 30, 2016
My uber driver is smoking a joint LOOOL

— Calum (@Gravess_) December 2, 2016
I'm pretty sure my uber driver is definitely high. He is leaning back in his car like this is a… https://t.co/2UFudQwHgJ

— Francisco Duran (@ciscoduran305) November 30, 2016
my uber driver is dumb high lmfao

— Cass❥ (@CassieMarie_x0) November 29, 2016
My uber driver is currently smoking a HUGE joint I just want everyone to know that

— Madeleine Helen (@madshelen) February 21, 2016
My uber driver's car smells like weed lol

— irene ? (@ew_irene) December 24, 2016
My uber driver high as fuck right now?

— Mugen Nicholas (@YUNGBRRR) November 29, 2016
My uber driver bout high asf ?

— GTA ABOOGIE ✨ (@callherleelee) November 29, 2016
My uber driver is high AF rn. Lmao

— Christian Jimenez (@Jimenez_Taco) November 28, 2016
HELP MY UBER DRIVER SMELLS LIKE WEED

— MBTI Debunked (@mbti_debunked) December 21, 2016
Bruh why was my uber driver high af last night hahaha

— Herson (@Herson_Larios) November 27, 2016
95% sure my uber driver is high

— r (@mayberosa) November 27, 2016
My uber driver is high af ? pray 4 me

— . (@_wangarri) November 23, 2016
Low key think my Uber driver is high, and he ain't offer me a hit. 0 stars...

— David Bahena(Hermes) (@NotDavyd) November 22, 2016
my uber driver was definitely high af LMAO he seemed like he just smoked weed and drove us

— baenciaga (@baenciaga) November 22, 2016
My Uber driver was definitely high

— Kim✨ (@kimbuckeridge) November 22, 2016
My uber driver is so high rn

— brittany (@blu_prey) November 21, 2016
My uber driver's car smells just like weed ?

— C ❤ (@ChatTheREASON_) November 25, 2016
I think my uber driver is high. ?

— Alison McDaniel (@AwesomeAliMac) November 21, 2016
Also I'm pretty sure my Uber driver was high so I canceled on that shit as soon as I could think up a good excuse.

— Softdrink 117 (@Softdrink_117) November 21, 2016
My uber driver is so high. Haha.

— Lou Benavides (@louthegenius) November 21, 2016
God bless my life rn cause my Uber driver is 100% high on something

— Eran 又 (@ErskiFriel) November 20, 2016
My Uber driver keeps telling me I'm pretty as shit and he's high af ... dear god

— BP✨ (@KingBP__) November 20, 2016
My Uber driver is high so that's where I'm at

— Jessenia (@R_YeseniaArango) November 20, 2016
My uber driver high af ?

— liz (@lizfdb) November 19, 2016
My uber driver last night was high asf ?

— cope2 (@copedawggg) November 18, 2016
My Uber driver is high af omg

— Chelsealynn? (@ChelseaaaChaos) November 17, 2016
LMFAOO my uber driver high asl! ?

— honey. (@talasia_) November 17, 2016
Think my Uber driver is high lol

— Mosby Stinson (@Casper_elRey) November 15, 2016
But my uber driver's car smells like weed ._.

— alyssa ✨ (@yaagirlalyssa) October 15, 2016
My uber driver's car smells light straight up weed ??

— J. (@re_JUVENAted) September 12, 2016
Guys, I think my Uber driver is high ??

— Naeema? (@DeeolaOsho) November 11, 2016
My uber driver smells like weed I'm concerned

— hayley (@breakthewarning) September 10, 2016
My Uber driver is high as a Trump building.

— B Sungam (@B_Sungam) November 11, 2016
My uber driver drove the wrong way on a one way street and his car smells like weed..

— Stephanie Gomez (@stephanie__sg) September 3, 2016
My uber driver is so high rn. Blasting blondie remixes.

— GENERIK (@generik_dj) November 9, 2016
my uber driver high asf and just slammed on the gas in reverse

— snow rod ❄️ (@rodthegawd) November 8, 2016
My Uber driver is High we are not safe

— alex (@alexisalltimelo) November 8, 2016
My uber smells like straight up weed and my uber driver looks high af

— Tabby ✨ (@tabbyx33) August 19, 2016
My uber driver just offered me weed and pulled out a bong ... I accepted

— Leigh Raven (@leighravenx) December 13, 2016