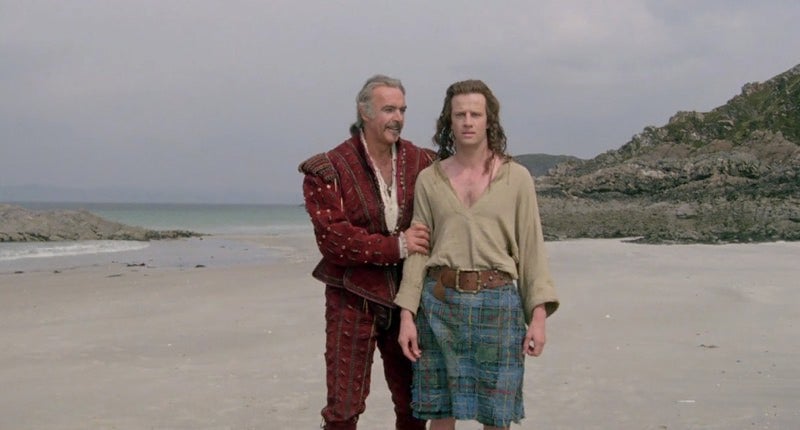 Like an immortal Scottish warrior who slips through the sands of time, assuming new identities until he comes to manage a New York City antiques shop, rumours of a Highlander remake will never die. But now, they may not be mere rumours, because a director has just signed onto the project.
A scene from Highlander (1986), which has some of the greatest montage sequences of all time ever.
It's Chad Stahelski, whose filmmaking resume consists of co-directing (with David Leitch) hitman flicks John Wick and next year's John Wick: Chapter 2. But notably, he has an established background in kickboxing and martial arts. He's a former stunt double whose biggest gigs include The Matrix (working with eventual John Wick star Keanu Reeves) and The Crow, where he filled in after Brandon Lee's fatal on-set accident. With his extensive career as a stunt coordinator, Stahelski seems very well-suited to tackling something as fight-oriented as Highlander. There's also this fun fact, as noted by The Hollywood Reporter, which broke the story:
"I've been a huge fan of the original property since I saw it in high school," Stahelski told The Hollywood Reporter. "Such great themes of immortality, love, and identity are all wrapped up in such colourful mythology. I can't think of a better property that gives the opportunity to create interesting characters, mythic themes and action set pieces."
Lionsgate, which is currently looking for a screenwriters to join the project, has been trying to remake Highlander since 2008. Will this be the version that finally sticks — or will someone realise once and for all that no matter how much fan-love is behind the remake, improving on the original will be impossible? (Add your own "there can be only one" joke here.)