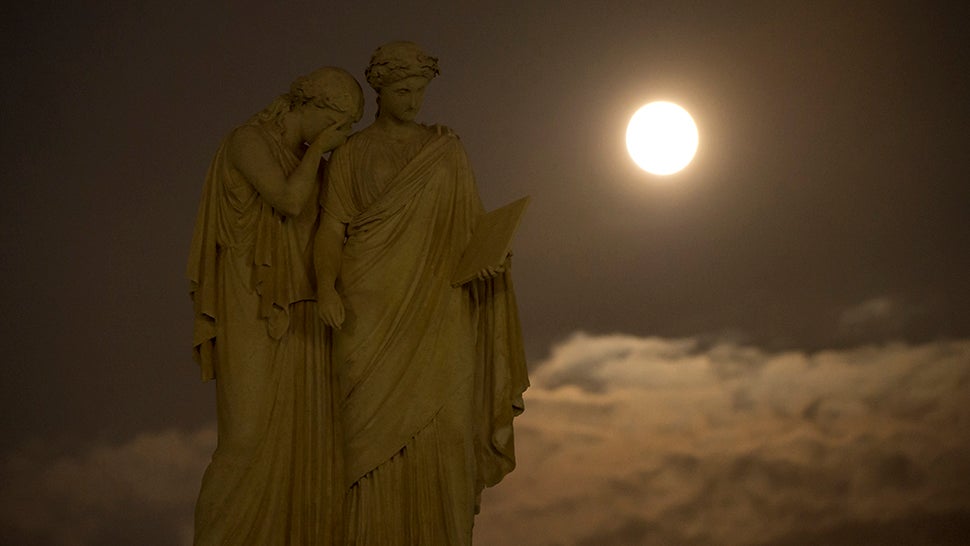 Photo: Getty
Tonight is your chance to see the closest "supermoon" that anyone on Earth has experienced in almost 69 years. That means amateurs and pros alike should be pulling out their photography equipment to get that once in a lifetime shot.
If you don't know why this supermoon is a topic of interest, you can read our full breakdown here. Suffice it to say that on November 14th at 11:23 UTC (7:52am ET) the moon will hit perigee, its closest point to Earth. Two and a half hours later, at 1:52pm UTC (9:52am ET), the moon will be full — hitting your eye like a big pizza pie. But don't worry about the exact time. Tonight and tomorrow night should both give you ample opportunity to appreciate it.
NASA has published some tips from the space agency's senior photographer, Bill Ingalls on how to photograph the "supermoon." Here's a breakdown of Ingalls' tips:
1. Photograph the moon with land-based objects or people for reference:
"Don't make the mistake of photographing the moon by itself with no reference to anything, I've certainly done it myself, but everyone will get that shot. Instead, think of how to make the image creative — that means tying it into some land-based object. It can be a local landmark or anything to give your photo a sense of place."
2. Do a little location-scouting homework:
"I use Google Maps and other apps — even a compass — to plan where to get just the right angle at the right time."
You may need to travel a bit to avoid light pollution. And make sure to ask someone for permission to shoot on their property.
3. Work with what you have
Ingalls recalls a time when he went to shoot to photograph the Comet Lulin at Shenandoah National Park in 2009. "I had just basic equipment and saw all these people with great telescopes making a picture I could never get. So what could I do differently?" he asked himself. He decided to use a long lens to shoot through tree branches that reflected the red light from his headlamp. For that bit of improvisation, he earned a spot on National Geographic's best space photos of 2009.
4. If a smartphone is all you have, that's OK:
"It's all relative. For me, it would be maddening and frustrating — yet it may be a good challenge, actually. You're not going to get a giant moon in your shot, but you can do something more panoramic, including some foreground that's interesting. Think about being in an urban area where it's a little bit brighter."
5. A couple of DSLR tips
Ingalls prefers a daylight white balance setting to capture moonlight since it's the sun's light that is being reflected. And when using a long lens, Ingalls says:
"Keep in mind that the moon is a moving object. It's a balancing act between trying to get the right exposure and realising that the shutter speed typically needs to be a lot faster."