Late last night, Twitter made the decision to suspend @EastwoodUSA.

Image: Rich Fury/Invision/AP
The account's final message — and presumed reason for being booted off the social network — read:
Thank you America, I don't have long left to live but now I know the last few years will be great, I can't thank you enough #PresidentTrump
Users reacted in outrage to the account's removal, calling the suspension an example of censorship and liberal bias. A Twitter spokesperson told Gizmodo via email, "We don't comment on individual accounts, for privacy and security reasons."
Clint Eastwood has had his twitter account suspended just for tweeting this! WTF! #Trump :O Disgraceful. pic.twitter.com/hQJJJsjlfX

— G.J Shepley (@GJShepley) November 10, 2016
@jack – Please bring back #ClintEastwood account as well as #MiloYiannopoulos

— Zigwald Malushi (@Luvthe1970s) November 10, 2016
And now the liberal snowflakes have suspended #ClintEastwood https://t.co/QREd7574tB

— Juliet (@Mauvais_Fille) November 10, 2016
So basically, the CEO of Twitter is a spoilt child who's decided that you need to agree with him to play with his toy? #ClintEastwood

— Hmmmph (@scepticalists) November 10, 2016
The free expression of ideas is a foundational principle of not only Twitter but also of America. Why would posting an innocuous message about an odious candidate merit digital eviction? Because @EastwoodUSA is not Clint Eastwood.
Let's take a step back while we look for proof. While Eastwood has been an outspoken supporter of the Republican Party — and let's not forget his memorable if bizarre speech to an empty chair at the RNC in 2012 — he's not been the all that thrilled with Trump, according to the Washington Post.
Also keep in mind, Eastwood is now 84 years old. What would an octogenarian millionaire be doing tweeting on election night, let alone tweeting Pepe memes?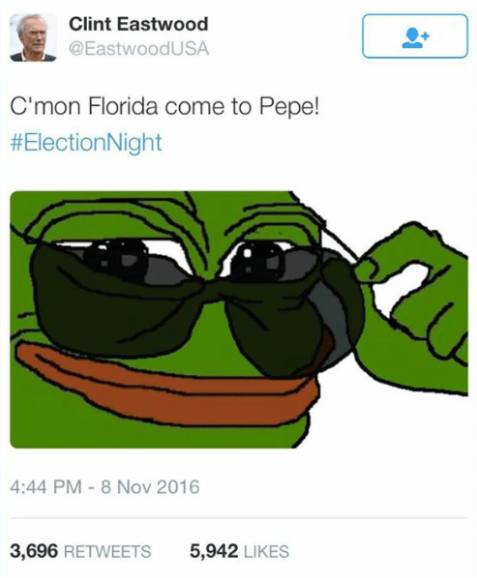 The real proof though is Eastwood's own daughter, Morgan, who has been trying to debunk @EastwoodUSA as a fake account since she seemingly discovered it last week. She repeatedly notes from her verified account that her father Clint doesn't — and wouldn't know how to — use Twitter.
STOP POSING AS MY DAD EVERYONE KNOWS HE WOULD NOT KNOW HOW TO USE SOCIAL MEDIA https://t.co/TPX0dF5Dil

— Morgan Eastwood (@MorganEastwood) November 9, 2016
@DayGawne @EastwoodUSA fake!!

— Morgan Eastwood (@MorganEastwood) November 5, 2016
@EastwoodUSA WTF STOP. Everyone knows this isn't really his account. I would know… ?

— Morgan Eastwood (@MorganEastwood) November 9, 2016
So that apparently settles that. If what Morgan Eastwood says is correct, Clint Eastwood did not get banned from Twitter because he didn't use Twitter in the first place.