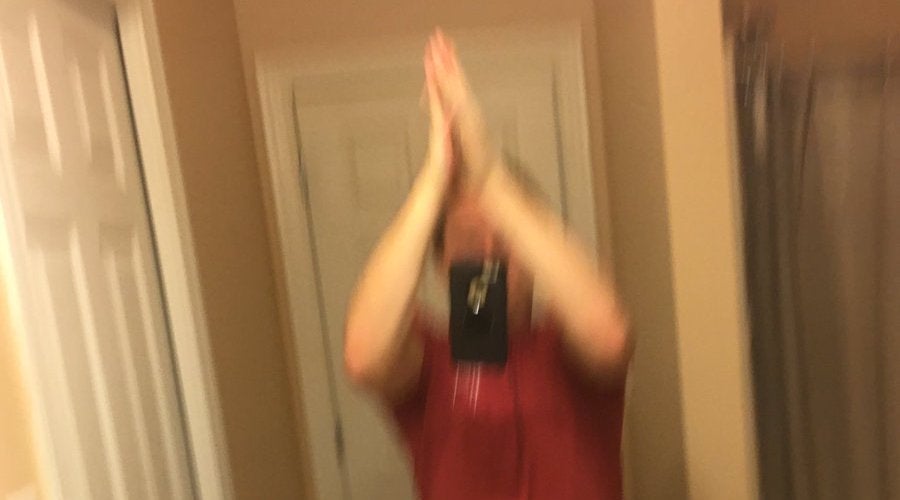 Have you heard about the latest craze to set fire to the internet? No, it's not Ken Bone's tomato-coloured sweater, or Donald J. Trump's "locker room talk", or the actually flammable Galaxy Note7. This furore is much dumber. Image: Twitter
The new "thing", as many news outlets have delighted in reporting, is the high-five, hands-free selfie. Like many inane, viral happenings, it all began with a tweet.
Today is the proudest day of my life. I successfully took a picture of me high fiving myself pic.twitter.com/tCZ53T5JSx

— Seth Schneider (@TOSUBUCK) October 8, 2016
The young man above, Seth Schneider, appears to have achieved quite the feat: Successfully taking a selfie while high-fiving himself. His tweet, initially posted on Sunday, now has over 170,000 retweets, and has spawned a number of imitators. Just search Twitter for "high-five selfie" or "hands-free selfie" and you'll find plenty.
There is only one rational response to this, and it is not, "Wow, that's cool!" It is this: "Stop throwing your goddamn phone in the air."
This isn't to take away from Seth's accomplishment, because I'm not a monster, and the kid can have his 15 minutes of viral fame. But most people, myself included, are not Seth; we are uncoordinated oafs who have oven mitts for hands, and that doesn't bode well for the very expensive, airborne gadgets required for this "trick".
As a few people have already demonstrated, there's a very, very good chance you will shatter your screen or otherwise mess up your phone, especially if, like Seth, you try to toss your phone above a hard bathroom counter.
Today I took a pic of me giving myself a high five while also fuckin up my phone screen even more pic.twitter.com/prBVAVX39o

— Skateboard P (@pusha4prez) October 10, 2016
Tried to take a pic of me giving myself a high five and I cracked my phone ?

— Cash Slingin Slasher (@m_grainger_) October 10, 2016
I tried to take a picture of me giving myself a high five and my phone ended up being flown across the study hall room

— chris crouton (@Chriscc_compton) October 11, 2016
Some people might try to argue that the damage is worth it for a few dozen retweets or the opportunity to tell their grandkids they participated in the Great Moronic Phone Toss Of 2016. Do not listen to those people. Save your phone, and save yourself the cost of having to fix it. If you must insist on trying it, at least do it above something other than a bathroom counter, like a carpet or something. Seriously, though, don't do it. The photos will probably end up blurry and unidentifiable anyway.
Then again, if you have a Galaxy Note7, smashing your phone to pieces might not be the worst idea.