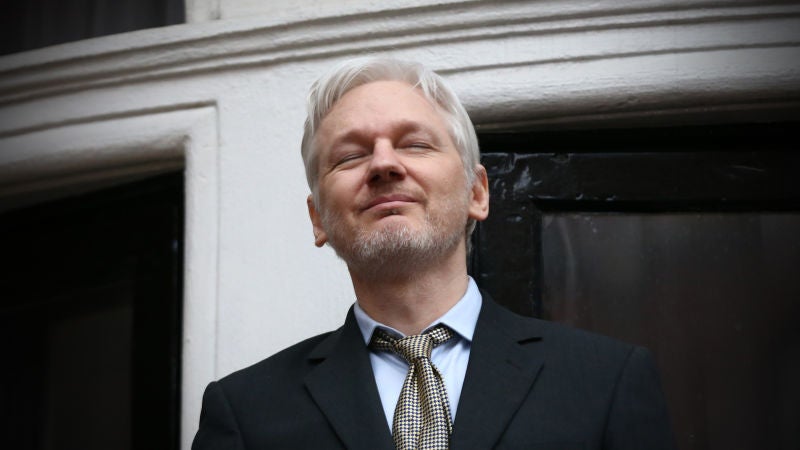 It doesn't matter if you're an anti-secrecy activist and they're a leftist government critical of the United States — if you happen to be Julian Assange, everyone gets tired of you eventually.
Photo: Getty
In an announcement confirming that it had restricted the Wikileaks founder's internet access on Tuesday, Ecuador's foreign ministry said it nevertheless remained committed to providing him with political asylum. According to a newly released report, however, the country has been looking for a way to deal with its increasingly inconvenient houseguest "for months."
Citing an unnamed source familiar with the situation, NBC News reports that Ecuador has long been "frustrated" with Assange's presence at their London embassy, where he has lived since 2012 to avoid possible arrest and extradition related to Swedish sexual misconduct allegations.
"The general view is he is a willing participant in the Russian scheme but not an active plotter in it," a U.S. intelligence source told NBC. "They just realised they could use him."
According to the source, American officials quietly suggested Ecuador stop letting Assange "carry water" for Russian intelligence agencies. Not long afterward, the country cut off his internet access, citing recent Wikileaks releases affecting the United States presidential election and the principle of non-intervention in the internal affairs of other states.
Conveniently, the move allows Ecuador to continue supporting Assange while effectively neutralising him as a political actor, though Wikileaks will continue through, in its own words, a "contingency plan". The country denies it acted at the urging of the United States (as Wikileaks has claimed), but that doesn't mean a little yanqui birdie didn't give it the idea.