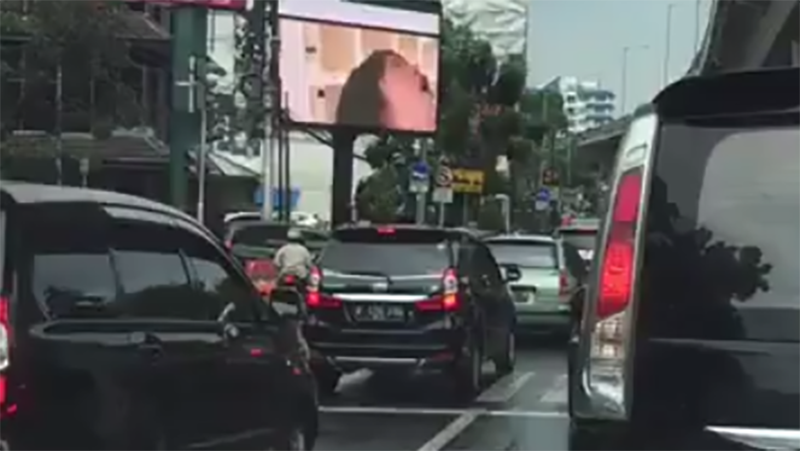 Around 1:00PM local time yesterday in Jakarta, commuters were treated to an impromptu porn screening. Sadly, police were able to cut power to the jumbotron billboard after approximately five minutes. Video still: Twitter/@cho_ro
It's unclear if the incident was an accident cause by an incautious billboard tech, or the result of a prankster — but either way, according to Indonesian newspaper Harian Jogja, the perpetrator has since been caught. Redditors were quick to identify the exact film as Tokyo Hot N1185. For the curious, the description of the porno, via the site 3javdaily, reads:
Tokyo Hot n1185 Tokyo heat absolute obedience Kasumi Kato Tokyo Hot n1185 Tokyo heat absolute obedience Kasumi Katoseries grated take insult thoroughly video absolute obedience Cusco in the vagina out piss Masturbation gangbang Pies in the category show Deep Throating Squirting cleaning Blow Spanking electric massage Dirty masked man (mask included) caster Women's Pies Ana, etc. scrounge juice actor continuous intravaginal ejaculation work number n1185
I can't think of anything less arousing than those words in that exact order! On the bright side: Whoever perpetrated this bizarre (see: Hilarious) act, at least they were using Chrome.
HAHAHHAHAHAHHAHAHAHFAAAAAAKKKK!!! :)))))) pic.twitter.com/XdYqeH7DKl

— choro | Merawat Kamu (@cho_ro) September 30, 2016