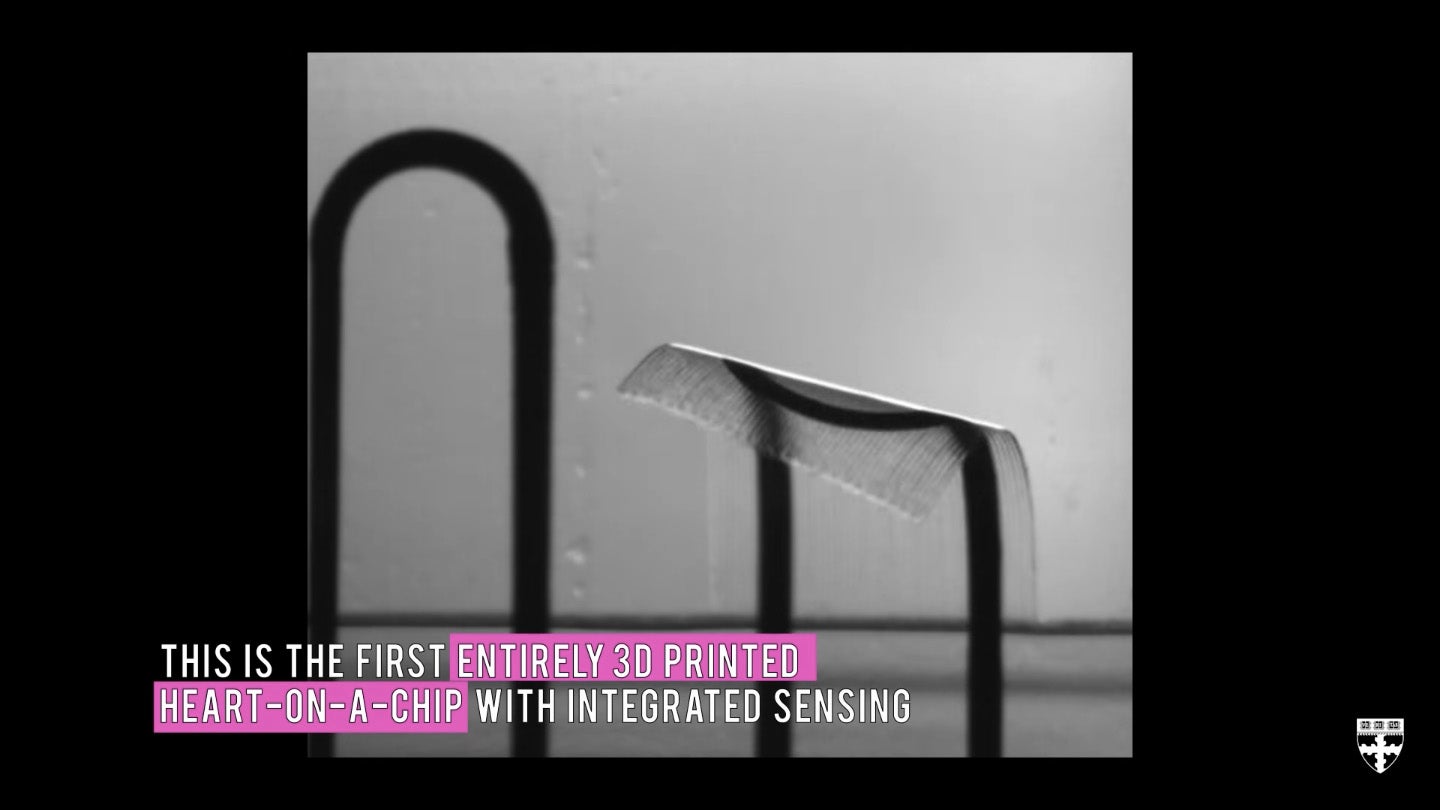 Scientists may soon be able to conduct experiments on hearts without needing once-living tissue and muscle from animals. In a new study published today in Nature Materials, Harvard University researchers announced they have created the first 3D-printed heart-on-a-chip capable of collecting data about how reliably a heart is beating. Image: YouTube
The printed organ is made of synthetic material designed to mimic the structure and function of native tissue. It is not designed to replace failing human organs, but it can be used for scientific studies, something that is expected to rapidly increase research on new medicine. The medical breakthrough may also allow scientists to rapidly design organs-on-chips to match specific disease properties or even a patient's cells.
Organs-on-chips, also known by the more technical name microphysiological systems, replicate the structure and function of living human organs. Each is made of a translucent, flexible polymer that lets scientists replicate biological environments of living organs. The chips are also clear so that the scientists can see an inner-working into how the organs work.
A large part of the breakthrough was actually developing six different printable inks capable of integrating sensors within the tissue being printed. In one continuous printing process, the team 3D printed materials into a heart-on-a-chip with integrated sensors. The sensors were capable of measuring the beating of the heart.
For now, the chips are only able to replicate the architecture and function of lungs, hearts, tongues and intestines. In June, Harvard's Wyss Institute for Biologically Inspired Engineering developed a lung-on-a-chip programmed to mimic a human lung. The heart is the most advanced organ-on-a-chip yet.
"Researchers are often left working in the dark when it comes to gradual changes that occur during cardiac tissue development and maturation because there has been a lack of easy, non-invasive ways to measure the tissue functional performance," said Lind in a statement. "These integrated sensors allow researchers to continuously collect data while tissues mature and improve their contractility. Similarly, they will enable studies of gradual effects of chronic exposure to toxins."