Two women and two men were killed while riding the Thunder River Rapids ride at Dreamworld on the Gold Coast.

Rescue personnel stand by the Thunder River Rapids ride at Dreamworld on the Gold Coast, Australia, Tuesday, 25 October 2016. (Image: AP)
Yesterday, an unspecified "malfunction" on the Thunder River Rapids ride at Queensland's Dreamworld amusement park caused two occupants to be thrown from the raft, while the other two were trapped inside. The unnamed victims are reported to be from the same family, and range in age from 32 to 42. The park has been closed while officials conduct their investigation.
Early reports suggest a surge of water pushed one raft into another, causing the front raft to tip over and throw its occupants out. The ride, which is described as a "moderate thrill" attraction, involves circular rafts that move along a fast-moving artificial river.
Above: A promotional video for the Thunder River Rapids ride.
"[The ride] had sustained some sort of malfunction causing two people to be ejected… another two people were caught inside the ride," noted Queensland Ambulance Service senior operations supervisor Gavin Fuller via ABC News. "Two males and two females, they were assessed by Queensland ambulance personnel and had all sustained injuries that were incompatible with living."
One witness said she was about to go on the ride when she saw people running out and crying. "We saw [a] little girl, and we believe it was her mum because it was just her and her little sister that was an infant," said Lia Capes. "I was speaking to one of the guys, and he said it was the raft or the boat thing in front of him. The whole thing flipped, and everyone was screaming."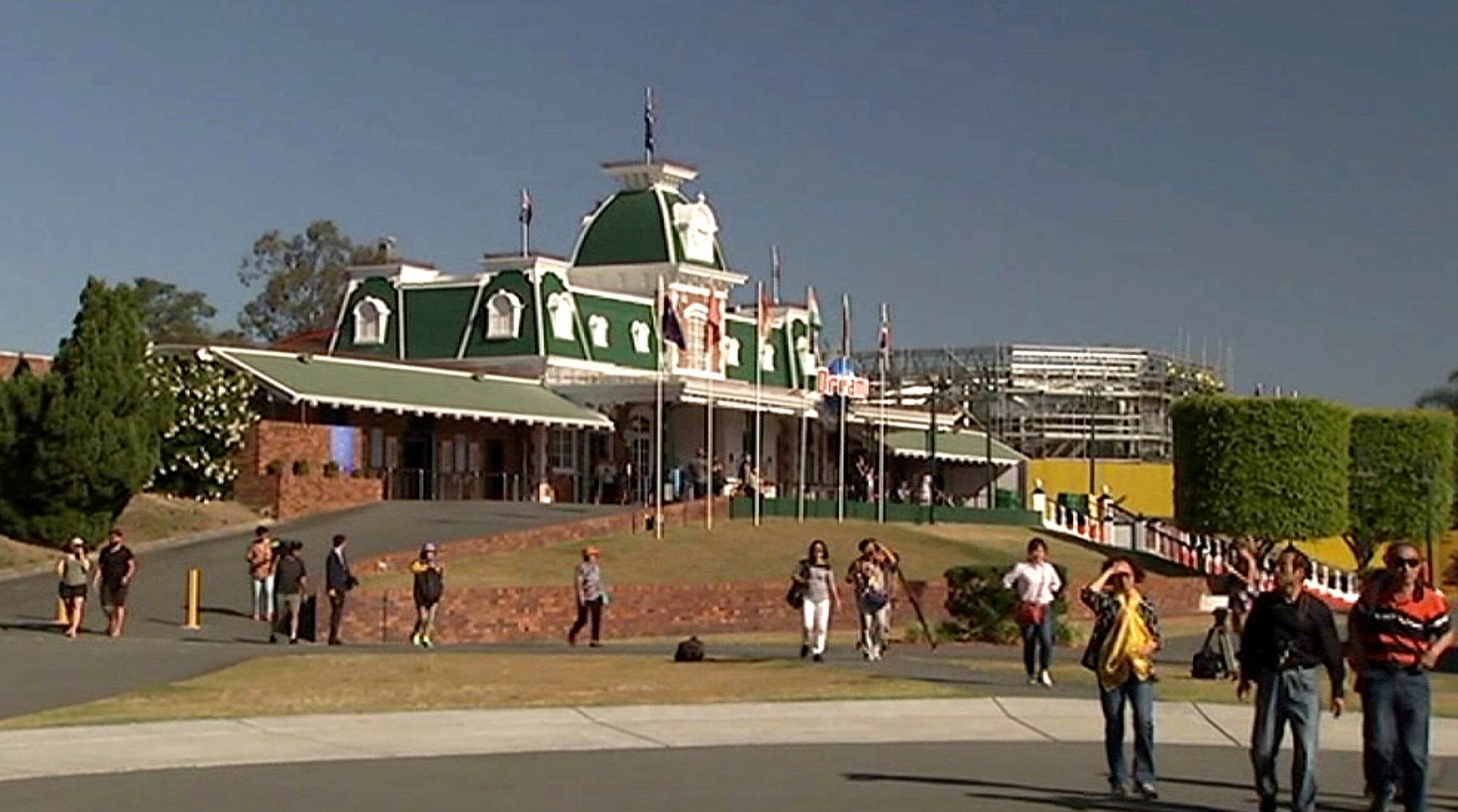 Tourists walk outside Dreamworld in the Gold Coast, Australia. The park has been closed until further notice. (Image: AP)
A Queensland police spokesperson said investigators are in the process of reviewing CCTV footage of the incident. Crews are still working to recover bodies from the scene, a complex retrieval that will require heavy equipment.
A Dreamworld visitor told the Sydney Morning Herald that the Thunder River Rapids ride had broken down earlier in the day. "It had broken down, and we went back a couple of times to this particular ride," she said. "We were standing on the bridge watching, and the water had stopped. There was no rapids."
It's not immediately clear if this earlier incident had anything to do with the accident, but investigators said they're considering everything at this time.