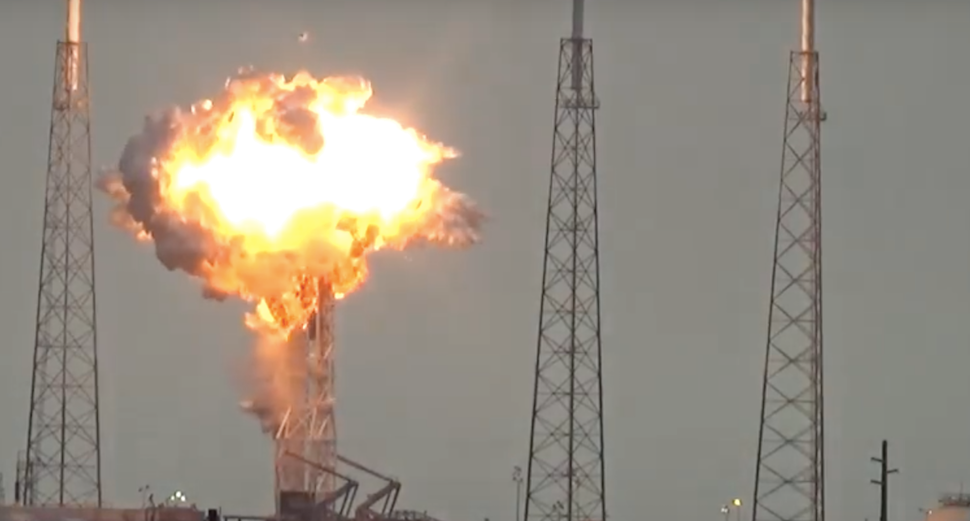 In an update posted to its website, SpaceX announced that its investigation of Thursday's Falcon 9 explosion, which began "immediately after the loss," will center on mere milliseconds worth of footage.
Image: YouTube/USLaunchReport
"We are currently in the early process of reviewing approximately 3,000 channels of telemetry and video data covering a time period of just 35 to 55 milliseconds," the update said, which was posted online last night. The investigation itself will involve oversight from the Federal Aviation Administration and will be carried out with the help of NASA, the Air Force, and "other industry experts."
SpaceX also noted that, so far, investigators still haven't figured out just how badly the explosion damaged its SLC-40 launchpad. "The pad clearly incurred damage," the post said, "but the scope has yet to be fully determined." Its other two launchpads in Florida and California weren't affected by the explosion, and the company said it was "confident the two launch pads can support our return to flight and fulfil our upcoming manifest needs."
Details on the cause of the explosion remain scant. SpaceX's blog post didn't provide much in the way of new information, and continued to stress that "the data indicates the anomaly originated around the upper stage liquid oxygen tank."
According to the Los Angeles Times, SpaceX is within its legal rights to carry out the investigation itself, though the FAA will still be there to watch over things. This past June, following SpaceX's investigation into its failed rocket launch a year earlier, NASA's internal watchdog Paul Martin called out the federal agency's decision to allow SpaceX to lead the primary investigation, saying it raised "questions about inherent conflicts of interest."