Guardians of the Galaxy: Vol. 2 director James Gunn has had enough of your guff, people.
Photo Credit: Marvel
The director took to Facebook to request Guardians fans stop asking him when the Guardians 2 trailer is coming out, like, all the time. He said the marketing team is working on the upcoming trailer, and he's heavily involved too. But, you know, these things take time.
Gunn said people keep prodding him on his social media accounts, demanding to see the first trailer for the upcoming film. It seems to be more of a problem on Facebook than the other platforms, which is sad because he's very interactive with his fans on there.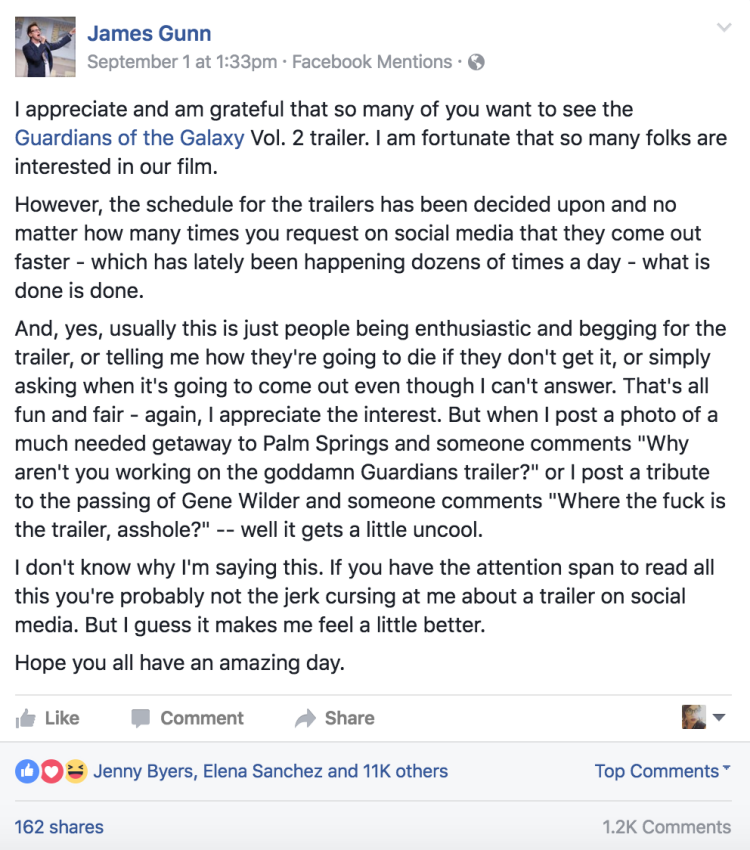 Photo Credit: Screengrab via Facebook
Guardians 2Guardians
"When I post a photo of a much needed getaway to Palm Springs and someone comments, 'Why aren't you working on the goddamn Guardians trailer?' or I post a tribute to the passing of Gene Wilder and someone comments, 'Where the fuck is the trailer, arsehole?'- well it gets a little uncool," Gunn wrote.
Panel attendees at San Diego Comic-Con got a baby trailer and clip in July, but the rest of us likely won't see the first trailer until Doctor Strange comes out Nov. 4. That's still a couple of months away, so in the meantime we all need to keep our cool and not be a bunch of dicks about it. Well, except for Gunn's brother, who can poke and prod as much as he likes.

Photo Credit: Screengrab via Facebook
Guardians 2