On one hand, casting Willem Dafoe as the voice of Ryuk the shinigami (probably best translated as "death spirit") in Death Note is great. On the other hand, Netflix's live-action US adaptation of the hit manga and anime is missing out on big savings by not just using Dafoe's actual, terrifying face in the film.

Image: Willem Dafoe in Spider-Man
Dafoe has been cast as Ryuk, the supernatural being who drops the titular Death Note into the mortal realm out of boredom. The notebook, which kills anyone whose name is written in it, is found by a high school student. The student in the original manga and anime is Light Yagami; in the Netflix version, it's Light Turner who uses the notebook to "cleanse" the world, while a detective named L investigates him.
Here's Ryuk from the manga next to Dafoe's angular, angular face: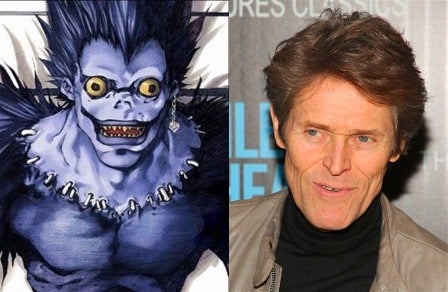 Images: Ryuk as drawn by Takeshi Obata in the maga, Dafoe photo by Andy Kropa/Invision/AP
See? Eerily similar. This adaptation of the manga is being made by Adam Wingard and stars Nat Wolff as Turner and Keith Stanfield as L the detective, and will be released next year.
[Mashable]