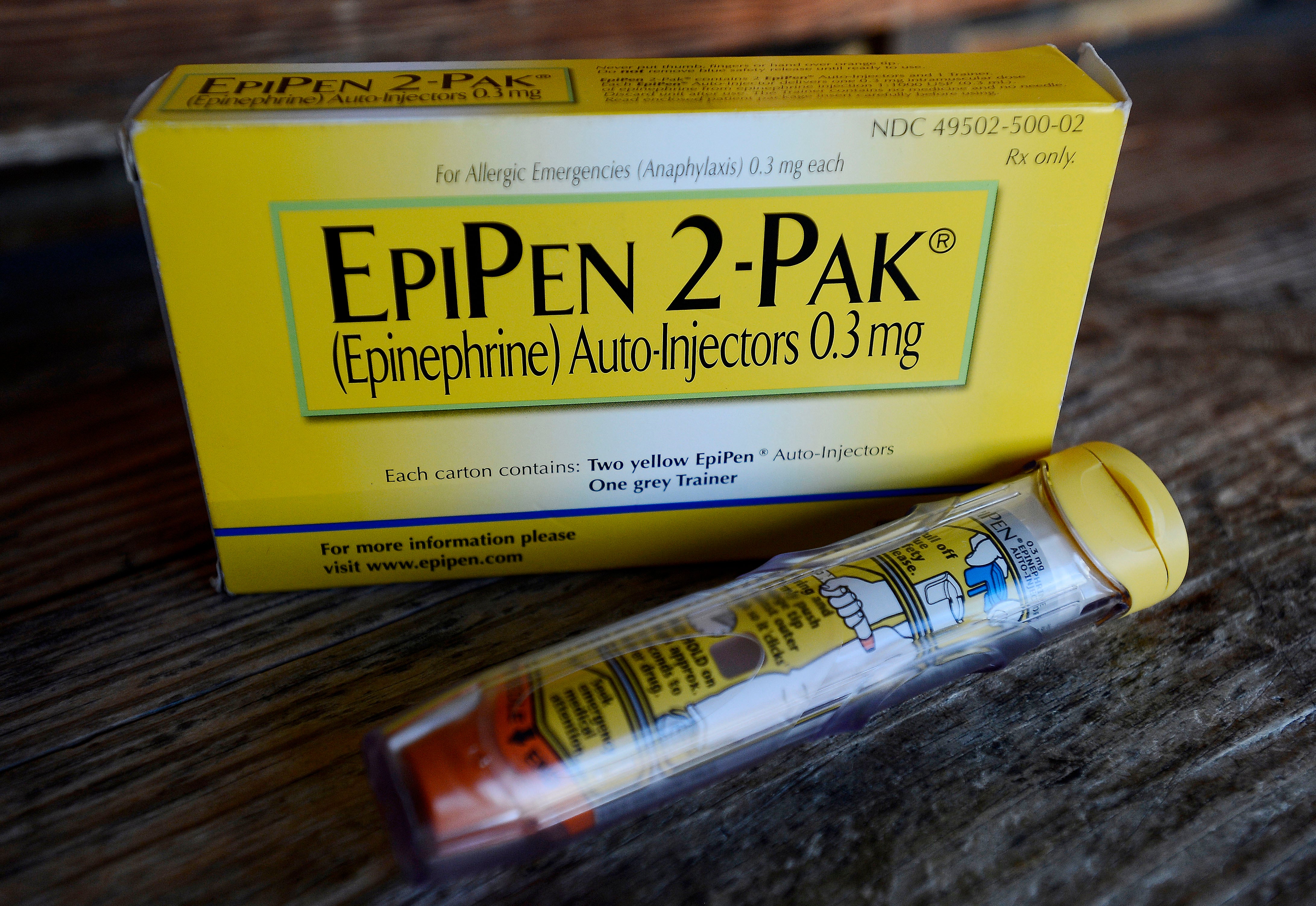 The extensive price hike for a vital, life-saving drug for many with allergies is causing concern among doctors, patients and politicians — along with a guy responsible for an extensive price hike himself.
Photo credit: Mark Zaleski/AP
Mylan pharmaceutical, the maker of the EpiPen — a portable epinephrine injector that can potentially save someone having a life-threatening allergic reaction — is being accused of raising the price of the product from around $US100 ($131) in 2008 to $US500 ($656) today. In all, that's an increase of over 400 per cent.
This is especially worrying because Mylan has a near monopoly in the business, especially after one of its competitors issued a recall last year. Doctors have likened its brand dominance in schools to that of Kleenex. Many schools in the United States have emergency epinephrine in stock and there are states there pushing for legislation to make that mandatory.
The increase is so high that Pharma Bro and person that hates Gawker Martin Shkreli, who for months was the most hated person on the internet after his company, Turing Pharmaceuticals, acquired a 62-year-old anti-parasitic drug and jacked the price from $US13.50 ($18) a pill to $US750 ($984), spoke out against the move.
"These guys are really vultures. What drives this company's moral compass?" he told NBC News.
He even remarked on the issue on Twitter, but in typical Shkreli fashion, it's hard to tell if he's being serious or not:
its almost like companies are tryna make money and shit. should be illegal. https://t.co/Cmi0K1MZAN

— Martin Shkreli (@MartinShkreli) August 18, 2016
In an earlier emailed statement, Mylan said its prices have "changed over time to better reflect important product features and the value the product provides" and that "we've made a significant investment to support the device over the past years."
According to a financial report released last week, Mylan's sales have gone up, thanks in part to the EpiPen.
With good insurance, and with the help of coupons, it's possible to pay very little for an EpiPen. However, those without adequate insurance in the United States are left without many alternatives, especially in pharmacies.
So, it's caused a number of officials to speak out, including former presidential candidate Bernie Sanders.
There's no reason an EpiPen, which costs Mylan just a few dollars to make, should cost families more than $600. https://t.co/rVWUlMxD0Q

— Bernie Sanders (@SenSanders) August 18, 2016
He expanded his sentiment in a statement sent to NBC News.
"The drug industry's greed knows no bounds," Sanders said. "The only explanation for Mylan raising the price by six times since 2009 is that the company values profits more than the lives of millions of Americans."
NBC stated that while there isn't a House committee investigation in the works, there is a lawsuit on the way.
"I've been looking at EpiPen for years," said Ari Kresch, CEO of 1-800-LAW-FIRM. "It's a very cheap drug but I haven't been successful in getting any experts to tell me why the price has gone up as much as it has."
It's just worrying that through all of this, Shkreli is using the issue to be the voice of reason. When he calls out your company, you know you've screwed up.
After being contacted, Mylan sent the following statement to Gizmodo:
"With changes in the [US] healthcare insurance landscape, an increasing number of people and families are enrolled in high deductible health plans and deductible amounts continue to rise. This shift, along with other insurance landscape changes, has presented new challenges for consumers, and they are bearing more of the cost. This change to the industry is not an easy challenge to address, but we recognise the need and are committed to working with customers and payers to find solutions to meet the needs of the patients and families we serve."
It also stated that the company has a number of programs that will help supplement the cost of the EpiPen, including a savings card.
[NBC News]