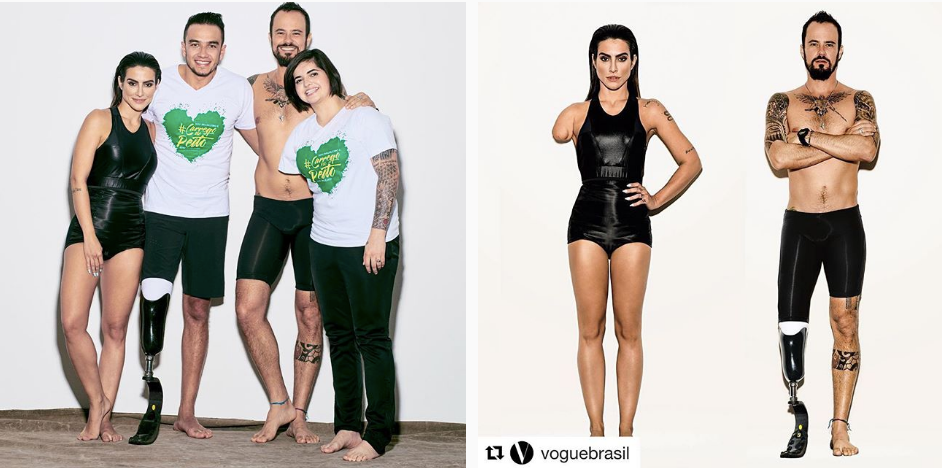 In an effort to promote the 2016 Paralympics, Vogue Brazil decided to launch a photo campaign highlighting Renato Leite and Bruna Alexandre, two Brazilian Paralympic athletes. But instead of, you know, just putting them in the campaign, the magazine used two able-bodied models — actors Cleo Pires and Paulo Vilhena — and photoshopped them to look like Leite and Alexandre. Image: Instagram
According to the Telegraph, Pires and Vilhena are both ambassadors for the Brazilian Paralympic Committee. On their personal Instagram accounts, both seem totally cool with the campaign, and have each posted snapshots of the athletes.
The (translated) caption for the Vogue photo reads, in part:
To attract visibility to the [Paralympics] and highlight the relevance of Brazilian disabled athletes in the panorama of the national sport, @cleopires_oficial and @vilhenap accepted the invitation to be ambassadors of the Brazilian Paralympic Committee and star in the campaign We Are All [Paralympics.]
The caption also notes that the campaign was done with the support of the athletes and the Brazilian Paralympic Committee.
Given that it decided to raise awareness through erasure, Vogue has been taking some heat for the photos. "[It's] hard to understand why Vogue Brazil felt the need to use models who aren't disabled in a Paralympic photoshoot," Richard Lane, who works for the British disabilities charity Scope, told the Huffington Post UK. "It's so rare to see positive and powerful representations of disabled people in the media."
It's tough to understand why Vogue decided to go this route, but it's worth noting that Leite and Alexandre — sitting volleyball and table tennis players, respectively — have also posted supportive photos from the campaign.
Vogue gave Buzzfeed Brazil the following explanation:
This is not a Vogue magazine campaign. It was conceived by the actors Cleo Pires, Paulo Vilhena (game ambassadors) and the Agency Africa.
Vogue along with Editions Globo Condé Nast, only supports the initiative as well as supports any initiative that encourages attendance at games.
Vogue respects the opinions of readers who disagreed with the campaign format, but reiterates its commitment to promote the importance of Paralympics. We will continue to support all of the Paralympic committee initiatives that encourage attendance at games.
We reached out to Condé Nast, but had not heard back at time of writing.