We hold these truths to be self-evident, that all millennials* are lazy, that they are endowed by their Creator Snapchat with certain unalienable Rights, that among these are Likes, Listicles and the pursuit of Intercourse.

Image: Gizmodo / Shutterstock
Well, not any more, haters! Despite their reputation as vagrants who can't stop screwing long enough to land themselves a job, it appears millennials aren't actually humping as much as you might think. New research published in the journal Archives of Sexual Behaviour suggests that some millennials — people born between 1981 and 1997 who often show enthusiasm for Bernie Sanders — aren't porking as much as their parents.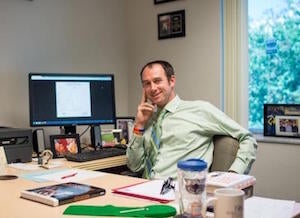 Ryne Sherman, study co-author; associate professor of psychology at Florida Atlantic University; millennial whisperer (Image:
Florida Atlantic University
)
The study's authors examined a nationally representative survey of nearly 27,000 American adults, and found that among Americans between the ages of 20 and 24, 15 per cent of millennials reported having no sexual partners after age 18. On the other hand, only six per cent of Generation X members born in the 1960s reported the same thing. The only other age group that demonstrated higher rates of sexual inactivity were people born in the 1920s. Got it, millennials? You're almost as prude as your grandparents!
"This study really contradicts the widespread notion that millennials are the hookup generation, which is popularised by dating apps like Tinder and others, suggesting that they are just looking for quick relationships and frequent casual sex," study co-author Ryne Sherman (pictured above) said in a statement. "Our data show that this doesn't seem to be the case at all and that millennials are not more promiscuous than their predecessors."
The study's authors posited that the decrease in sexual activity could be due to increases in both sexual education and STI awareness, as well as greater access to pornography. (Nice.) They did not, however, mention laziness as a factor, even though millennials are so lazy they won't even eat cereal.
But as shocking as it may be to learn that young people aren't humping everything and everyone in sight, this is not the first study to suggest such a thing. Previous analyses, including one from the same authors, have found similar things.
* – Even this one