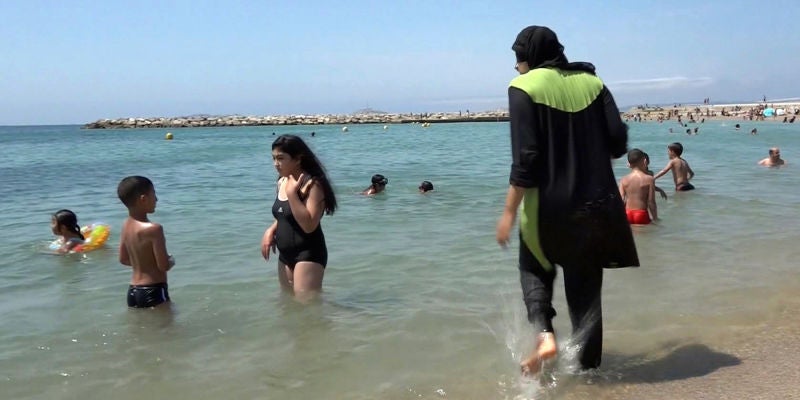 Five cities, including Cannes and Nice, have now banned women from wearing burkinis, full body bathing suits worn by some Muslim women. The deputy mayor of Nice, Rudy Salles, told the BBC the ban was "a necessity" after the terrorist attacks in Nice earlier this summer. Image: AP
#BurkiniBan continues its empowerment of women- in this case 4 armed, white men standing over woman making her strip pic.twitter.com/8TnYb0yWMy

— Afua Hirsch (@afuahirsch) August 23, 2016
On Tuesday, the Guardian published particularly disturbing photos of French officials forcing a Muslim woman to remove her burka at Promenade des Anglais in Nice. She received a ticket for wearing an outfit that does not "respect good morals and secularism". (Yes, this is a law enacted in the 21st century.) Photos of the incident were widely disseminated on social media as well.
Now, an official in France is threatening to sue social media users who post pictures and videos of police officers enforcing the burkini ban.
From Mashable:
Christian Estrosi, president of the Regional Council of Provence-Alpes-Côte d'Azur (of which Nice is a part), issued a statement, saying, "Already, complaints were filed to prosecute those who spread the photographs of our municipal police officers and those uttering threats against them on social networks."
Here's a thought. Why don't we stop suing people? Just for, like, one second. Thanks.
[Mashable]