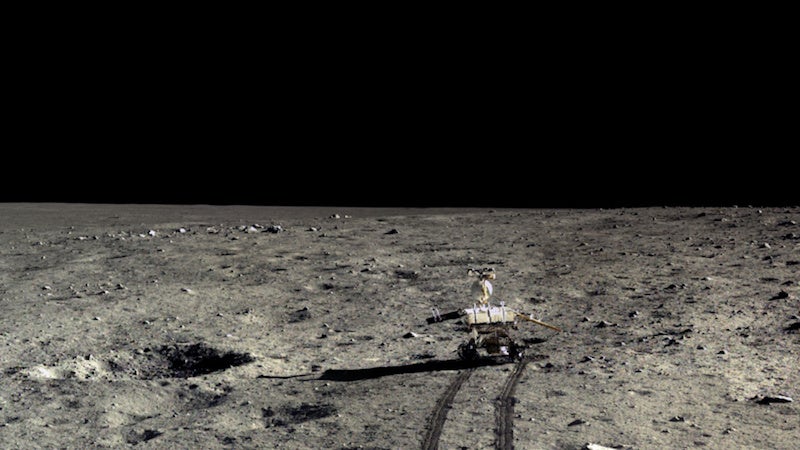 After over two-and-a-half years on the moon, China's lunar rover Yutu has been pronounced dead — for the second and (probably) final time. Yutu in happier days, as captured by the Chang'e 3 lander (Image: Chinese Academy of Sciences / China National Space Administration / The Science and Application Center for Moon and Deepspace Exploration / Emily Lakdawalla)
China's state news agency announced that the lunar rover had died last night. Yutu, or "Jade Rabbit" as it's also known, was previously (and prematurely, it turns out) thought to be dead two years ago, in January 2014.
At the time, the rover appeared to have lost its ability to communicate with Earth. Scientists posited that the moon's temperatures had simply been too cold for the rover, shutting it down. Then two weeks later, it unexpectedly sprung back to life and began sending them data again. The rover went on to live for over another two years.
It's unlikely that the rover is going to pop back from the dead this time, though. Jade Rabbit was only meant to last for three months and ended up lasting 31 months. In that time, the rover was slowly losing functionality. Even after it lost the ability to roll away from its current spot, Jade Rabbit continued to beam back data from which researchers were ultimately able to write over 100 articles for scientific journals.
[Xinhua]