An out-of-control bushfire ripping through California's central coast is expected to get worse before it gets better. On Saturday, California's Department of Forestry and Fire Protection (CalFire) announced that the so-called Soberanes fire, which has already burned an area larger than San Francisco, could quadruple in size and rage for another month.

Image: Nic Coury/AP
A 30,000 acre bushfire on Friday, the Soberanes fire expanded rapidly this weekend, scorching over 40,000 acres in Monterey County by Monday. More than 5000 firefighting personnel are working to extinguish the blaze, which has destroyed 57 homes, threatens 2000 more and has claimed at least one life.
As of last night, the fire was only 18 per cent contained. Now, the US Forest Service is steeling itself for the possibility that this will become one of the worst bushfires of the summer, engulfing up to 165,000 acres by the end of August.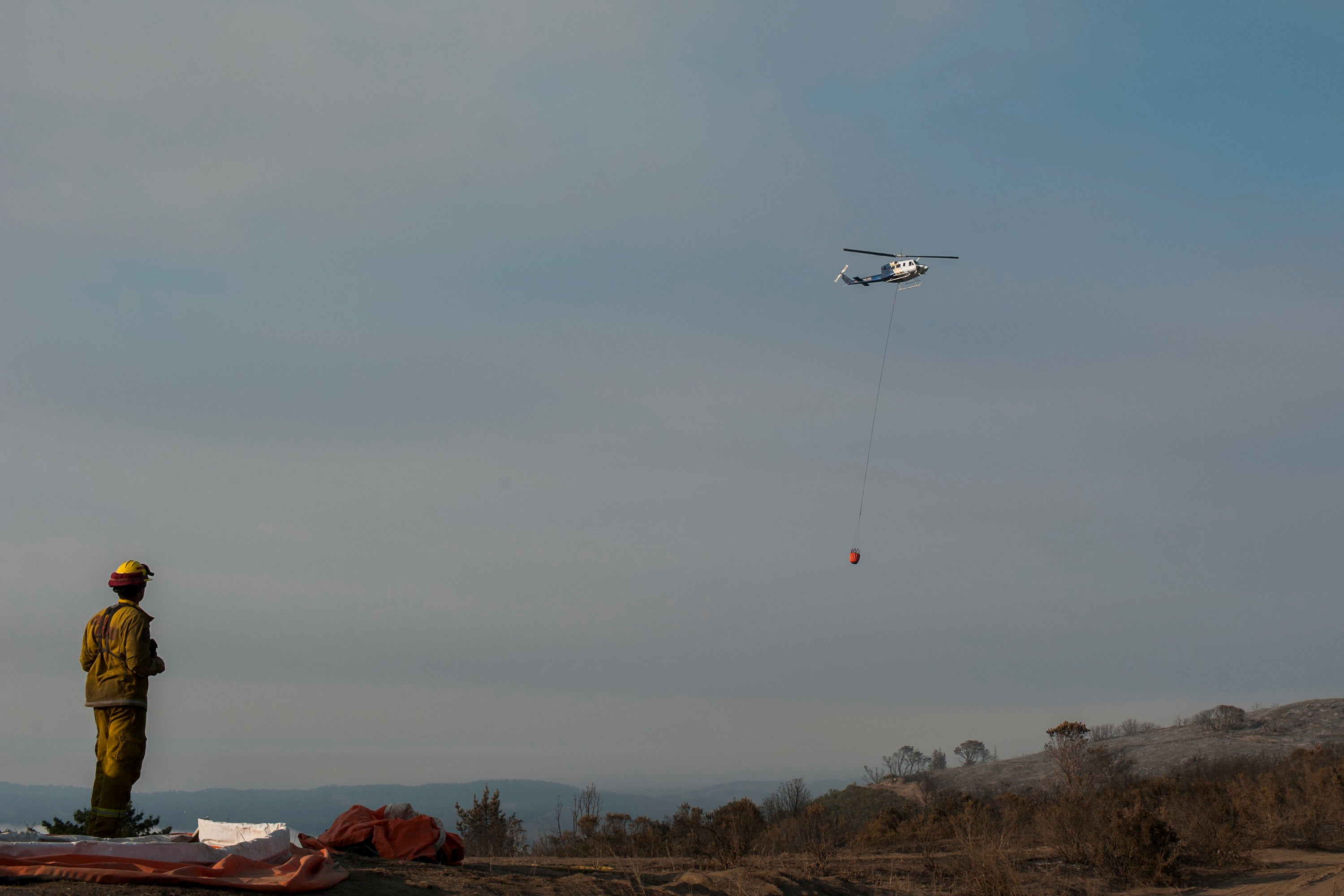 A firefighter watches a helicopter prepare to drop water on a fire in Monterey County. Image: Nic Coury/AP
The Soberanes fire is proving exceptionally difficult to fight due to an unfortunate combination of geography — it's burning through steep, forested ridges of the Carmel highlands 200km south of San Francisco — and unusual weather patterns. While most fires die down at night, this one seems to charge up as a humid marine air mass pushes drier air uphill.
"A lot of times fires will lay down, and kind of get quiet at night," meteorologist Ryan Waldron told KSBW News. "In this situation, it's unique in that the air mass actually tends to get drier at night, which allows the fire to stay active essentially 24 hours a day."
It's been a rough bushfire season for California, which is now in its fifth year of record-breaking drought. The same week that the Soberanes fire broke out, another vicious bushfire erupted near Big Sur, choking Los Angeles with smoke and forcing thousands to evacuate. At nearly 40,000 acres, the Sand Fire is now close to being contained.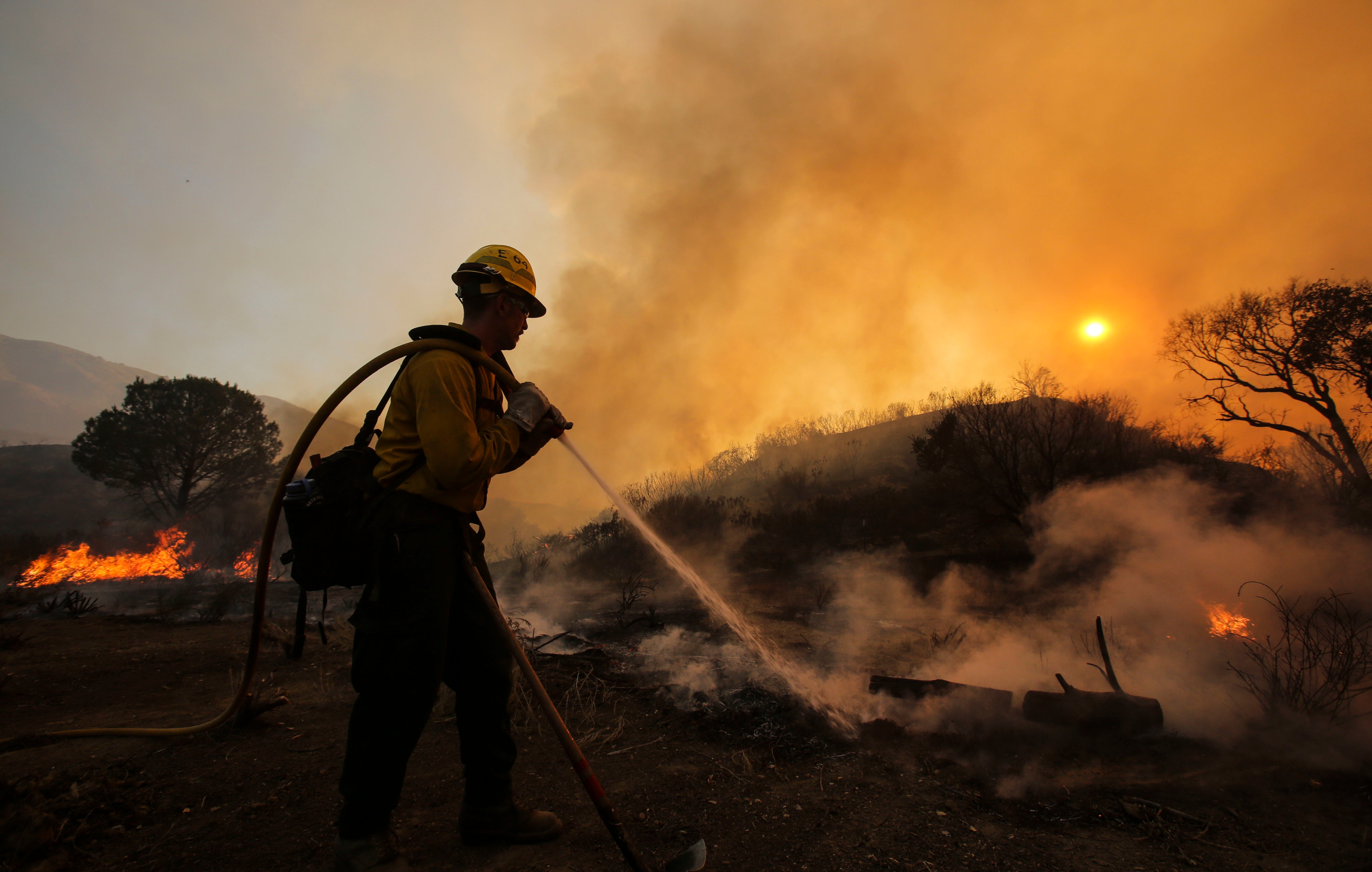 A firefighter battles a part of the Sand Fire blaze in Santa Clarita, California on July 24th. Image: Ringo H.W. Chiu/AP
Both the Soberanes and Sand Fire are emblematic of the so-called "megafires" that have become eerily common in recent years. These are fires that burn hotter, spread more rapidly and are more difficult to predict and contain than the smaller bushfires the United States, Canada and Australia see by the thousands each year. Megafires were virtually unheard of before the 1990s, but thanks to a combination of human encroachment on wildlands and climate change, they're now eating up roughly half of the US Forest Service's annual resources.
To get a sense of just how rapidly these blazes can spread, CalFire released this timelapse of the Soberanes fire's first week of life:
1 week time lapse of the #SoberanesFire – now larger than the city of San Francisco at 31,386 acres. pic.twitter.com/P9p7bLMel9

— CAL FIRE (@CAL_FIRE) July 29, 2016
The Soberanes fire remains "very active", and CalFire is issuing regular updates.