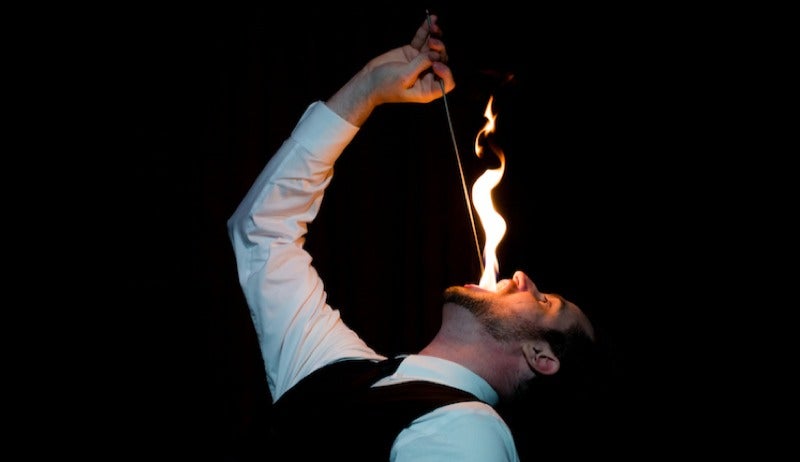 The dragons on Game of Thrones may breathe fire, but it's not the kind of thing mere mortals should attempt — unless said mortal is Thom Britton, self-described fire-eating science clown with Freak Show and Tell ("Science+History+Insanity"). He explains the science behind eating fire in this new video of his performance at the International Science and Engineering Festival.
Image: Thom Britton/Freak Show and Tell
As Mental Floss points out, he's not really eating fire. But he is still popping a flaming torch into his mouth and snuffing it out — no mean feat. Understanding the physics involved is crucial — namely, fire and hot air will travel upward — as is knowing better than to inhale in the middle of eating fire. Other than that, mostly it takes a lot of practice to develop sufficient skill and precision, with the help of a few tricks of the trade.
Britton definitely takes extra precautions, per his FAQ:
My costume (a suit) is treated with a 'fire-proofing' spray. It is a tailored, 3 piece, men's suit. No feathers, no ruffles, no fringe. The floor is covered with banjo cloth - this cloth is fire retardant (Click here to see the proof) and if I bring my backdrops, they are made of the same materials. There is a fire extinguisher on stage, in plain sight and 1-2 people offstage with a fire blanket.
And yes, he is insured for this.
Should any of you more foolhardy souls want to make like a Targaryen and try your hand at eating fire, Penn Jillette (one-half of magic duo Penn & Teller) has a few tips — plus some straight talk about the risks involved: "You shouldn't be doing this. It's dangerous and if you do everything right, you'll still get hurt."