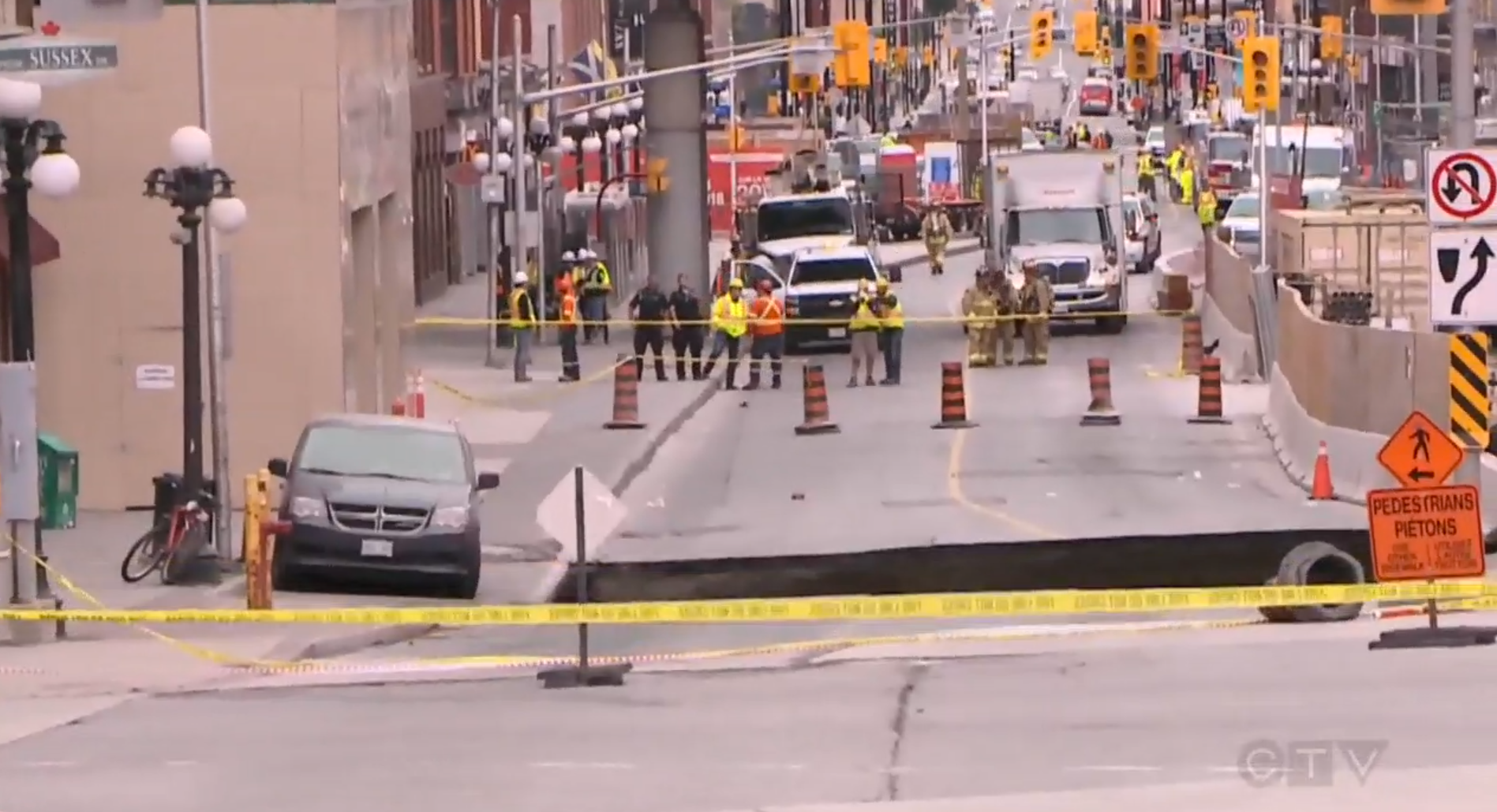 Downtown Ottawa is the latest city to remove cars from its streets. Actually it's just a single minivan. That got sucked into the bowels of the Earth. Now you see it... (Image: CTV)
A huge sinkhole opened on a busy Ottawa street this earlier this week due to a water main break. It seemed like emergency crews had everything under control and then...
The van on Rideau Street is now under water #ottnews #sinkhole pic.twitter.com/l6Gk5WjM2s

— CTV Ottawa (@ctvottawa) June 8, 2016
Guys I just saw a car get sucked into the sinkhole #ottawasinkhole #sinkhole #ottawa pic.twitter.com/7YyaHpzudr

— Anne-Sophie Alarie (@_Sophster) June 8, 2016
OMG this is scary to watch check it out on #Periscope: massive sinkhole collapsing now! ottawa rideau street https://t.co/wXTax1IBDt

— Kim Buchanan (@Kim_Buchanan) June 8, 2016
Don't worry, you can enjoy these videos. Police had blocked off the area around it and no one was in danger. But still. People were close!
In addition to disrupting traffic, the sinkhole also caused power outages and a possible gas leak. Some are worried that the main was broken due to the city's new light rail line, which is currently tunnelling beneath the area. Ottawa officials can't determine why the water main suddenly broke, but they don't think it was due to the light rail.
The city can't connect the sinkhole to LRT construction under Rideau Street, saying LRT tunnel is well below the watermain break. #ottnews

— CBC Ottawa (@CBCOttawa) June 8, 2016
Prime Minister Justin Trudeau was not available to offer an explanation.
[CTV]