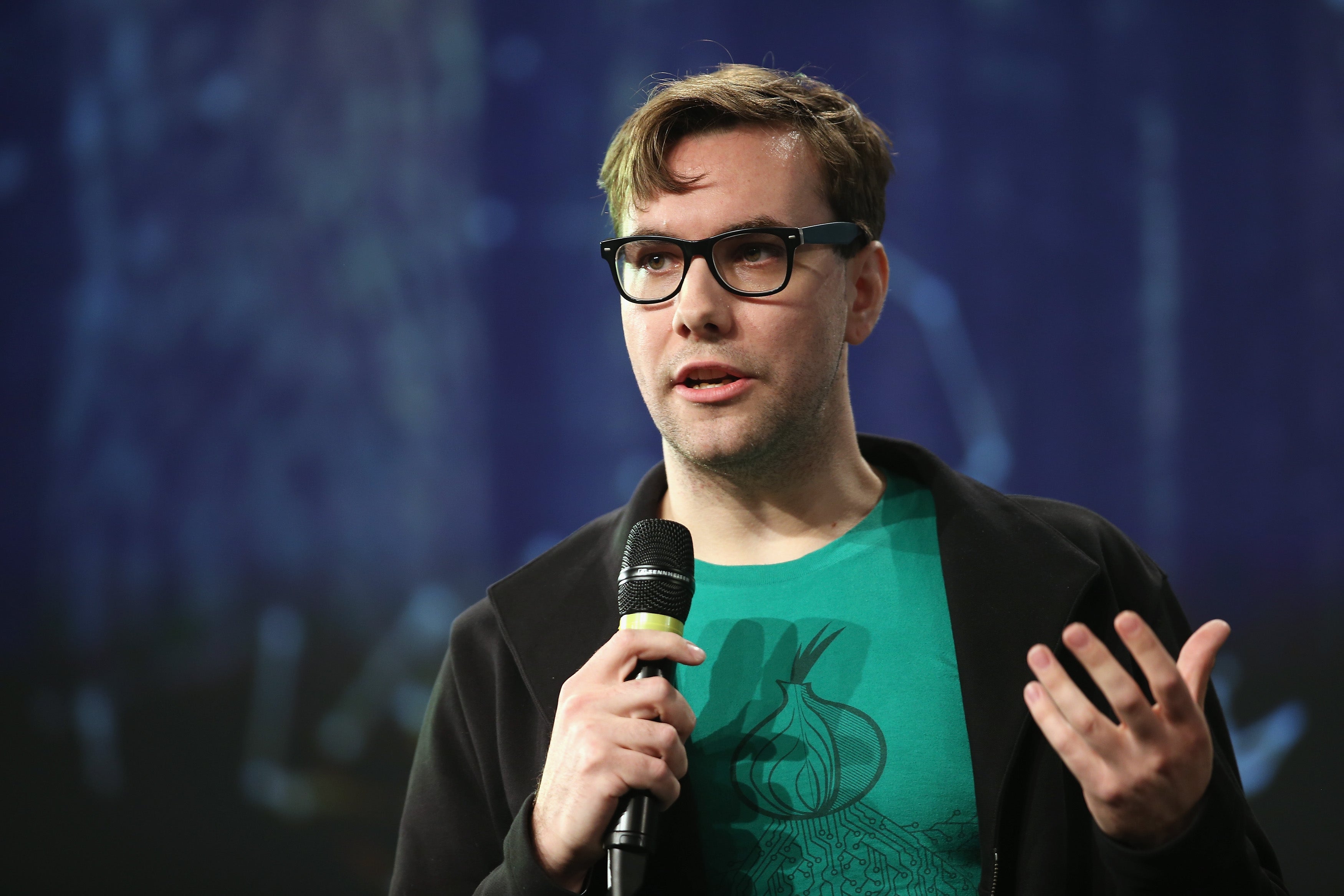 Two more women have accused ex-Tor Project developer Jacob Appelbaum of sexual assault. This comes after Appelbaum recently stepped down from the Tor Project following internal complaints of sexual harassment. AP Images
In a medium post, influential Tor community member Alison Macrina, who runs a project that helps get the Tor browser into libraries, said that Appelbaum sexually assaulted her. Macrina says that a story posted by "Sam" on a website dedicated to collecting anonymous, alleged accounts of sexual misconduct by Appelbaum was written by her.
Macrina's story claims that Appelbaum coerced her into taking a bath with him, despite her initial refusal.
From Macrina's post on jacobappelbaum.net:
I said, ok, but I don't want to take a bath with you. I sat down on the toilet and started chatting with him, and he immediately began coercing me to get into his bathtub. I was hungover, possibly still a little drunk from the night before, and although I wasn't interested in getting in, I wasn't so firm in my resolve because of my somewhat compromised state. I kept saying no, and he kept asking (while chatting about other things), and eventually I said, ok, I'll keep my underwear and t-shirt on and put my legs in the water. I did that, and he kept asking me to get in all the way, even as I told him I wasn't interested.

He then kind of pulled me into the tub halfway, turned me around, and started to wash me. I was thinking, what the fuck, get out of this situation, why are you in this fucking bathtub with this man when you repeatedly told him no. But anyone with experience of Jake's manipulative powers will know exactly what I was feeling — somehow you tell him no, and he convinces you that what you just said was yes. His nonconsensual washing lasted about a minute or two before I leaped out of his bathtub and started crying in the corner of his bathroom. During all this, he kept talking like nothing was happening! Later, he called me a coward for not wanting to date him.
Appelbaum has denied multiple allegations of sexual misconduct, and said last week that "a calculated and targeted attack has been launched to spread vicious and spurious allegations against me. I want to be clear: the accusations of criminal sexual misconduct against me are entirely false."
Macrina's new post includes more information about Appelbaum's alleged behaviour, as well as her reasoning behind the decision to come forward.
From Macrina's post:
Today, I am going public because like others who've spoken out before me, I am fortunate that my privilege shields me from some of the risks of public exposure. I have been involved in Tor for about a year and a half, and I met Jake shortly after joining and we became pretty close. Despite being a relative newcomer, I got highly involved in Tor quickly, and many of the anonymous victims do not have my established trust and visibility in the community, so today I am using my power to speak up for those who cannot.

Jake was my friend, and it took months to be honest with myself about what happened. As I recount in my previously anonymous story, when I approached him about it he would redirect the conversation to tell me why he was the real victim. He said anything else I'd heard about his behaviour was part of a political smear campaign that, as his friend, I must help defend him against. He said what I'd experienced myself and seen him do to others were aberrations, and that he was a totally different person.

I began asking questions in the community to see who else had stories. What I heard was shocking — a pattern of violative and often violent behaviour using manipulation, humiliation, ignoring boundaries, and outright coercion.
Macrina did not immediately respond to an interview request.
Another woman, Isis Lovecruft, who is a staff developer at the Tor project, has also accused Appelbaum of sexual assault. Lovecruft is the second woman today to come forward with claims that she was assaulted by Jacob Appelbaum. "Jake is still threatening the other victims to try to keep them quiet, and additional reports of extremely severe sexual assaults and rape are pouring in to The Tor Project," Lovecruft wrote. "Meanwhile, Jake is preparing some sort of public "apology" statement."