Google I/O so far this year has been busy. We've seen new goodies within Android, virtual reality, wearables and chat. Here's your two-minute guide to all the happenings from Mountain View.
Google Assistant Is A Mega AI Bot That Wants To Be Absoutely Everywhere
First, Microsoft. Then, Facebook. Now Google. During Google's I/O keynote today, the company announced Google Assistant, its own attempt to make your life easier with the help of an automated messaging buddy. Let's hope it has better luck than others.
"We think of this assistant as an ambient experience that extends across devices," Google CEO Sundar Pichai said. "It will be on their phones, the devices they wear, in their cars and in their homes." Then Pichai dropped this beauty, the Amazon Echo-like Google Home.
Google Home Is The Potential Nail In Amazon Echo's Coffin
Google Assistant sounds like it could be just what smart home fans have been looking for in a digital assistant, but it's pretty near worthless if it doesn't have some good hardware to go along with it. That's where the Google Home (previously codenamed Chirp) comes in.
The new device is a direct competitor to Amazon Echo, and it includes a speaker, always-listening microphone and the ability to control all the smart appliances in your home — including Google's own Nest.
Duo Is Google's Overdue Crack At A FaceTime Killer
Today, Google announced a new video calling app called Duo, and it may just be the FaceTime competitor we've been waiting for. Or it might just be boring and basic. It's a companion app to the company's messaging app Allo, and it's similarly mobile-only.
After opening the app, you're presented with a front-facing camera preview of yourself. You can then select who you want to call by scrolling through your contacts. Then tap your friend and, if they pick up, the video call begins. So that's basically the same as FaceTime. But if it seems overly simple, that's by design.
Android Wear 2.0 Focuses On What Smartwatches Do Best
Android Wear big boss David Singleton just showed a demo of Android Wear 2.0 at Google I/O. And man, is the new software full of good ideas.
Google is improving what smartwatches already do fundamentally well: fitness tracking and notifications. Now, watch faces will display notifications and information from any Android Wear app, much like Apple Watch's own watchface complications. That certainly helps if you want a watch that's basically an at-a-glance notifications ticker on your arm.
Daydream Is Google's Plan To Conquer Virtual Reality With Android
After years of dabbling, Google is getting serious about virtual reality. Meet Daydream, Google's three-part plan to take the VR world by storm with Android. Google publicly waded into the VR world a few years ago with its cheap Google Cardboard viewer, which has sold some five million units to date.
Last year it launched "Jump", an end-to-end solution for creating, producing and playing back 360 video content. Today, Google takes the next step on mobile phone-based VR, with new VR-specific features baked right into the Android operating system. The three-part plan includes phones, headsets and the new Daydream content ecosystem.
Android Instant Apps Sounds Insanely Useful
Installing apps is a time-consuming pain in the arse sometimes. I don't want to download a whole app just to watch one video! Google just announced a brilliant solution to this problem: Instant Apps.
Instant Apps allows you to quickly use some of an app's functionality without actually installing the whole thing. So if, for example, you click on a link that requires an app, your phone will download only the code necessary to run that specific function. What's more exciting is that Instant Apps will be compatible all the way back to devices running Android Jellybean.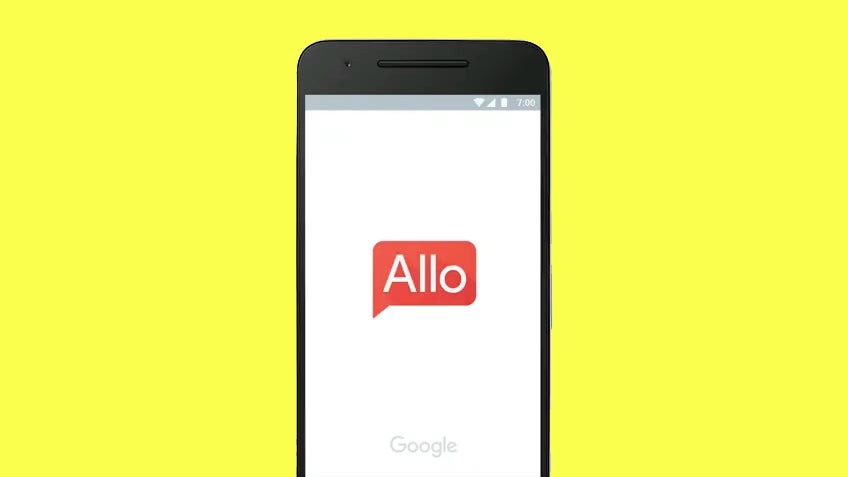 Allo Is Google's New Super-Powerful Messaging App
It's been long rumoured that Google was looking to one up its own Messenger and Hangouts messaging apps. Well, Google did just that with a new messaging app called Allo. The app is powered by Google's newly announced AI bot Google Assistant and Google's Knowledge Graph. Once you sign up with your phone number and link your Google account to the app, you're ready to go.
Allo has cutesy little features like easy-to-use volume control to "shout" messages (read as: make font bigger). But some of the "woah future" moments came with a demo of impressive image recognition built into the app. For example, when you send a picture of a dog, Allo will automatically populate possible responses because it recognises that the image is of a dog. Like Smart Reply in Gmail, Allo practically does the messaging for you.