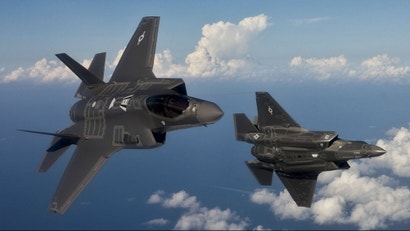 Dr Keith Joiner was responsible for signing off on the testing and evaluation for the F-35 Joint Strike Fighter for Australia — of which 72 were ordered for a cost of more than $17 billion, starting over 14 years ago.
Now, due to numerous concerns — among them major software issues — Dr Joiner says "the Senate should put a dirty great big stop work order on any sign-up to any production aircraft that we've not already committed to."
Image: The Conversation
In an interview with Radio National's Background Briefing, Joiner revealed the software weaknesses of the aircraft.
"The Joint Strike Fighter is a completely software driven aircraft," Joiner said.
"Some systems like the radar control are fundamentally worse than the earlier version, which is not a good sign. You don't want your software testing going backwards. The next software version is block 4. It won't be available until 2020. So there'll be nothing but fixing bugs in the original software between 2013 and 2020."
"That's seven years with nothing but fixing bugs. That doesn't give you a lot of confidence for a completely software driven aircraft going into the future."
"It hasn't done any cyber security testing yet, the aircraft. The only system that has done cyber security, vulnerability and penetration testing is the logistics software. So ordering spares. And it didn't go very well."
"So the most software driven aircraft ever built hasn't yet been tested against cyber security and the modern cyber warfare threats."