During its first trial launch yesterday, the US Air Force's experimental Super Strypi did not make it to space. Instead, it seems to have suffered a 'rapid unscheduled disassembly' somewhere over Hawaii, which in normal-people speak means the $US45 million rocket blew up.
The rocket launched around 5:45pm HST (2:45pm AEDT) yesterday. From the looks of this video, it lifted off cleanly to begin with, before beginning to veer off course erratically. The US Air Force released this statement:
"The ORS-4 mission on an experimental Super Strypi launch vehicle failed in mid-flight shortly after liftoff at 5:45 p.m. Hawaii Standard Time (7:45 p.m. PST; 10:45 p.m. EST) today from the Pacific Missile Range Facility off Barking Sands, Kauai, Hawaii. Additional information will be released as it becomes available."
It's unclear at the moment whether the rocket exploded on its own, or if the range safety officers initiated the self-destruct when it began to veer off course. Either way, it's an unfortunate failure for the first orbital launch from Hawaii.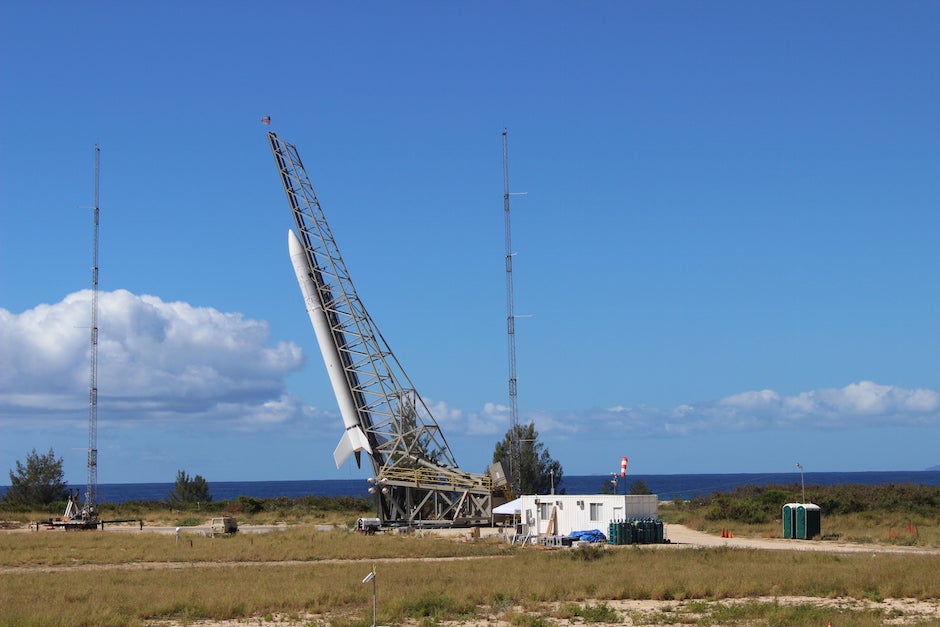 Super Strypi was meant to be a cheap way to get payloads into orbit. Essentially, it's a repurposed Cold War-era military rocket. It launches at an angle off a truss-mounted rail system, much simpler and quicker to assemble than the vertical-launch systems that are more common for space launches. Basically, by pointing the rocket where it needs to end up, the engineers hope to remove the need for a complicated self-guidance system.
For the first launch, the rocket was carrying a payload of 13 small satellites, for institutions like the University of Hawaii and NASA.