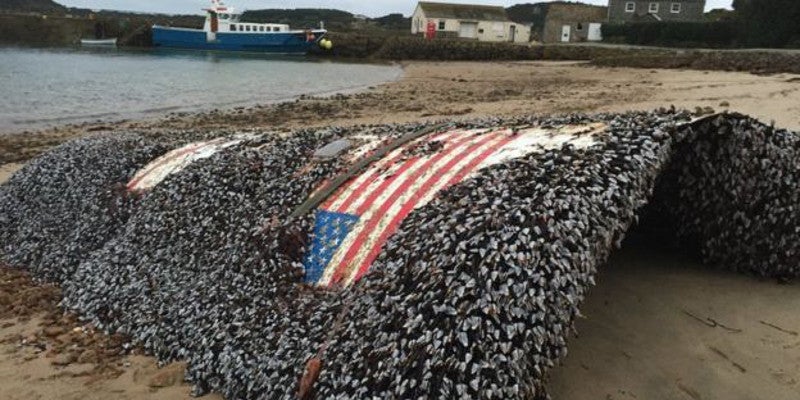 Back in June, SpaceX's Falcon 9 rocket exploded catastrophically shortly after liftoff. Now, some of the debris appears to have washed up on the UK coast — over 6437km from where the accident happened.
The BBC reports that part of the wreckage from the Falcon 9 rocket explosion have washed up on the coast of the Isles of Scilly, just off the English mainland. The piece of debris, which measures 9.7m by 4m, was first found by Joseph Thomas, who thought it may be a dead whale when he saw gulls were flocking around it.
Closer inspection revealed it to be something else entirely. In a tweet, Pete Hicks, who helped tow the debris ashore, explained: "Towed in and beached a piece of flotsam earlier. Thoughts were could be aviation parts... didn't imagine space race."
Coastguards have since stated that it "seems most likely to be the unmanned SpaceX Falcon 9 which blew up shortly after take-off from Cape Canaveral in June."
The Isles of Scilly are a little over 6437km from Cape Canaveral where the launch took place, though it's not unusual for items from the Americas to wash up on UK shores.
The debris has been towed to the nearby town of Tresco, where it's said to be under guard on the beach.
[BBC]
Image by Tresco Island