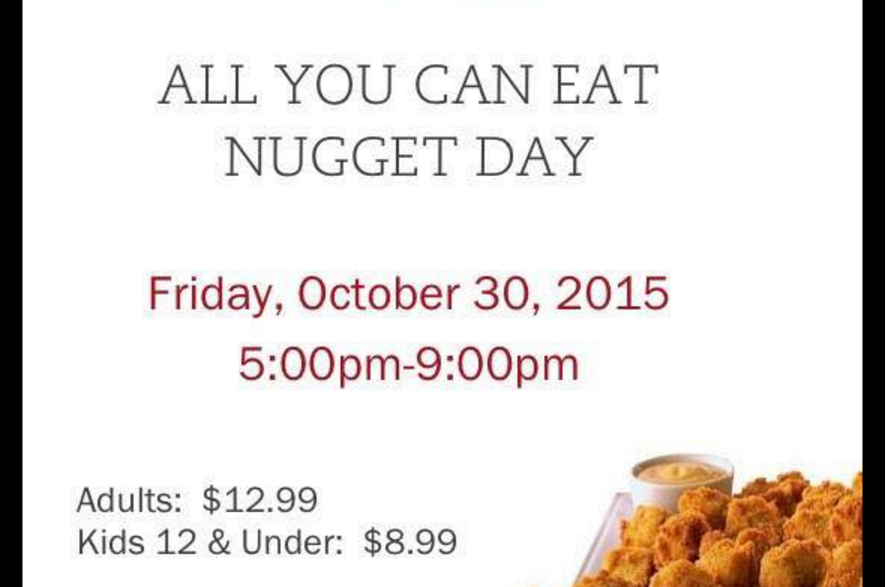 A local Chick-fil-A's offer for unlimited chicken nuggets went viral, prompting social media to lose its shit until it was confirmed that the stuff-you-face deal is not available nationwide. Even Snopes had to step in. Why are Americans so desperate as a nation for nuggets?
If this all you can eat nuggets thing is not at every @ChickfilA ...or at least the one in Starkville, I might cry my eyes out.

— Claire Marie Bonham (@seabonham) October 27, 2015
The offer from the St. Pete's Beach, FL Chick-fil-A promised unlimited chicken nuggets, waffle fries and a refillable drink for $US12.99 ($US8.99 for kids) this Friday. That's $18.20, or $12.60 for children. Uploaded to Facebook (160,000 shares) and Twitter, it was soon being shared as a cropped image that made the offer appear native to all Chick-fil-A's, not just the one franchise in St. Pete's Beach.
Me when I saw that Chickfila is going to have all you can eat nuggets on Friday pic.twitter.com/SRDVDoVzWL

— Marvin Gaye (@PriincessMelody) October 28, 2015
Soon the corporate Chick-fil-A pages were filled with inquiries from those whose apparent dream is a never-ending source of chicken nuggets. Corporate fried all hopes by confirming the deal was local.
All these ppl retweeting about all you can eat nuggets at chick fila and its in St. Pete hahaha. YALL gonna be disappointed.

— Ali Patton. (@ALIgator_95) October 28, 2015
Falsified and misconstrued offers on social media are nothing new, and considering Chick-fil-A's very real nationwide "Cow Appreciation Day," wherein anyone dressed as a cow received a free meal, this wasn't the craziest dream to dream. This offer was genuine (but only in St. Petersburg), and as Snopes points out, it serves as "a fine example of unintended deal-related consequences." What a time to be alive.
All you can eat nuggets at Chick Fila Friday October 30. RT to save a life

— MW (@mwill16) October 27, 2015
Called @ChickfilA today to ask them if we could do the all you can eat nuggets?? they said no..

— Kane Taylor (@Kane_Waynee) October 29, 2015
America is apparently starving for a never-ending pipeline of Chick-fil-A to stuff down its gorge. Ad Age quotes a Chick-fil-A spokesman as saying that an upside of the misunderstanding is that the "passion for the brand is clearly communicated." You think?
But really though @ChickfilA pic.twitter.com/Z4hILShe9Y

— John O'Korn (@JohnOKorn) October 28, 2015