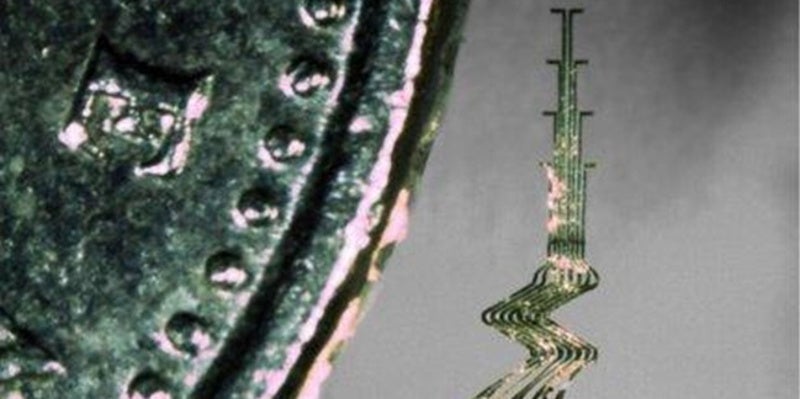 Electrodes currently used to directly monitor the brain are made from solid materials that can damage the tissue they're inserted into. But a new type of flexible electrode may change that.
The best way to measure brain signals is to place electrodes directly into the brain. But existing devices are either made from entirely solid materials or, even if they are flexible, contain solid chips so are at least stiff in places. When inserted into the brain, such devices can rub against the tissue and slowly damage it, which can be a problem for long-term monitoring.
Now, though, a team from Lund University in Sweden has developed the flexible electrodes pictured above. Made from gold which measures just 10 microns in thickness, the electrodes are laser cut to shape and then insulated using a polymer called parylene C. The whole thing is then coated in gelatine to make it stiff enough to insert into the brain, but once in place that layer dissolves (harmlessly), leaving the tiny flexible electrode in place. The research is published in Frontiers in Neuroscience.
The team tell The Engineer that the new electrode "creates entirely new conditions for our understanding of what happens inside the brain and for the development of more effective treatments for diseases such as Parkinson's disease and chronic pain conditions than can be achieved using today's techniques."