Lots of human cells are specialised, but I can't think of any that are as stripped down to a single purpose as spermatozoa. Sperm have just one job, and they will die doing it.
Every single piece of a sperm cell's internal machinery is tied to getting to an egg for fertilization. That affects everything about the cell, especially the way it looks — a bit like a really skinny tadpole. At one end, the 'head' is an elongated, nucleus-toting globe. But the rest of the cell is a long whippy tail, ideal for taking it places.

Sperm cells don't start out looking this lean and mean. When they first develop inside the testes, they're spherical. They're also about three times the size of the head of a mature spermatozoan. At this point in their lives, they're called spermatids, and the only thing about them that's not about to change are the chromosomes they're carrying, which have already divided down to the single-copy set every sex cell needs for fertilization.
Over a period of about a month, a spermatid completely reorganizes itself. First, the two centrioles — which normally maintain a cell's internal skeleton — migrate to one end of the cell and start stacking proteins to form a thin bundle of tiny tubes. The tubes get longer and longer, and eventually become that long whippy tail that will push the sperm forward. To power it, energy-producing mitochondria cluster around the top of the tail, forming a thicker section of tail called the "mid piece".
While the cell builds its motor, it's also cooking up a chemical arsenal that will let it find and interact with the egg. Most of the chemistry takes place inside a saclike part of the cell specialised for making dangerous proteins. As it fills with the enzymes that will melt the protective layers around the egg, it molds itself over the surface of the nucleus like a dunce cap, forming a structure called the acrosome.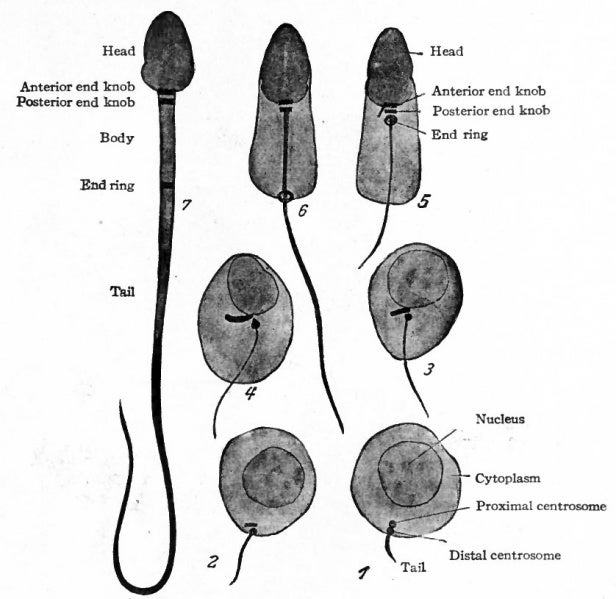 All these changes are happening on autopilot because inside the nucleus, the chromosomes are getting tightly wrapped and compressed, taking the cell's DNA and its genetic instructions out of commission. Once the DNA is tied up, it loses its ability to control the cell. It's now nothing more than a passenger for the journey that's to come.
And finally, the developing sperm cell starts to shed weight. As the tail gets longer and longer, the rest of the cell pitches out its cytoplasm, growing smaller and smaller until the head is about a third of its original size and most of the cell is a long thin tail.
At this point, the sperm still can't swim, and they're also chemically incapable of fertilizing an egg. They're sex cells in stasis, waiting for the chemical signals that will set them in frantic motion.
[Gilbert 2000 [Mudrak et al 2005 [Amann 2008 [Moore and Persaud 2008 [Jones and Lopez 2014]]
Top image via WikiCommons ; spermatozoa diagram by Mariana Ruiz Villarreal via WikiCommons; sperm development from Bailey and Miller 1921 via UNSW Embryology