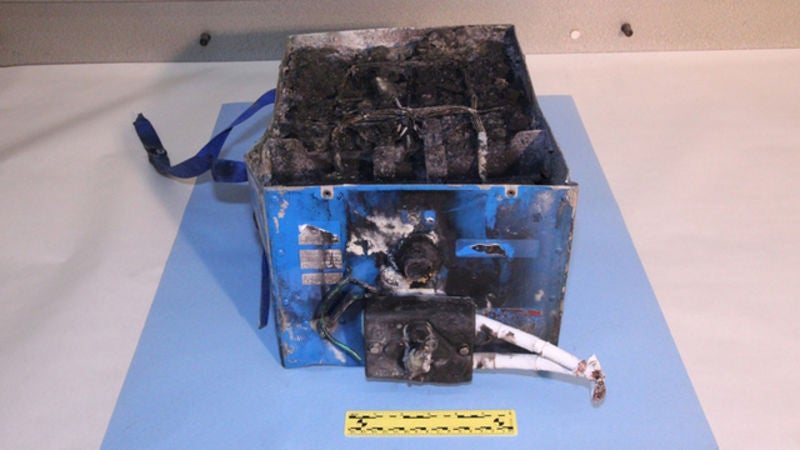 In 2013, the troubled Boeing 787 Dreamliner was grounded for nearly four months because the plane's lithium-ion batteries caught fire. It's had at least three more cell failures since the plane was allowed to resume flying. While the Federal Aviation Administration dismisses these new failures, the fact that these battery malfunctions continue to happen is a big deal.
No other lithium-ion battery in service shows failure rates this high. Failures in these batteries typically come at a rate of one in five million. But the Dreamliner lithium-ions are failing at a shockingly high rate of one in a thousand.
Unreported failures
In October of last year, in an event that no one reported, a Qatar Airways 787 had to make an emergency diversion. The pilots were alerted to a battery issue during flight. Qatar Airways referred questions to the FAA and NTSB, and declined to say how many travellers were on the plane. The Dreamliners can carry 254 passengers.
The FAA, which was notified of the episode by Boeing, commented on the incident via spokeswoman Laura Brown: "The battery design and enclosure performed as intended by limiting and containing the failure."
Boeing notified the FAA and the NTSB about the emergency landing of Qatar's 787 under a provision designed to encourage the industry to "share significant safety related information," NSTB spokesman Peter Knudson said. Neither agency conducted an investigation into the failure of the Qatar Airways battery, but the FAA allowed Boeing to assess the damage and report the results back to the agency.
According to a knowledgeable source, last week a European 787 operator also had a battery release fumes and smoke into the containment box but this person did not identify the airline.
The FAA's Brown would not confirm any other episodes beyond the one on Qatar Airways. "We don't consider something an 'event' if the containment box performs as designed," she said.
A history of troubles
Before the Dreamliner's battery problems began in January 2013, Qatar's chief executive Akbar Al Baker was critical of Boeing for what he called the 787's teething problems and unreliability. The new plane was three years late in being delivered to its customers, the first of whom were Japan Airlines and All Nippon Airways.
The first battery problems were on these airlines in 2013, triggering the grounding of the fleet. The plane was only allowed to fly again after Boeing encased the batteries in a stainless steel box to make sure the power source could meet fire protection standards.
After 787s were fitted with the battery housing, a Japan Airlines 787 undergoing maintenance at Tokyo's Narita Airport began emitting smoke in January of 2014. Investigators with the Japan Transportation Safety Board said overheating of cells could be expected and they were confident the plane maker's fix would work as intended.
The JTSB was not notified of the failure on Qatar Airways according to JTSB's Mamoru Takahashi, who added that Boeing was not obligated to report it. Japan Airlines, All Nippon Airways and Qatar are three of the largest operators of Dreamliners. Since putting 22 of the modified 787s into service, Qatar's Al Baker has expressed confidence in Boeing and in the battery fix.
Experts are concerned
Jeff Dahn, a physics professor at Dalhousie University and a battery expert, says this issue should not be ignored because it means something is wrong with the cells. "Normally they will do nothing unless they are being mechanically abused or electrically abused. Since they are in the box, they are probably not being mechanically abused, so there is something going on with those cells."
Another battery expert who asked not to be identified said he, too, was surprised by the frequency of the problem, considering how few of these cells are in service, 16 per aeroplane on about 300 787s flying. "One out of a thousand sounds high. I would categorise it as a supplier quality control problem first. It has a safety component but they are managing it by the redesign," he said.
Dahn used the new Tesla electric car models, each of which has 7000 cells, as a point of comparison. "Why would you continue to use lithium-ion cells that are having trouble?" Dahn asked about Boeing. "Look at the Teslas driving around. They not having problems and there's a gazillion of them."