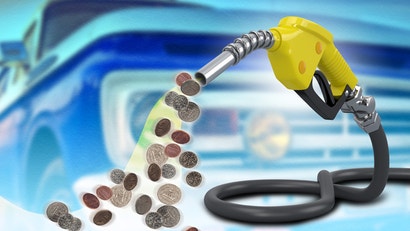 Consumer group CHOICE is calling on car companies to 'come clean' in its new campaign, following road tests that show some cars exceeded their fuel consumption claims by over 30%. This comes right on the heels of the Volkswagon smog check scandal, with over 11 million vehicles worldwide being rigged to cheat official emissions tests.
Image remixed from Maxx Studio and olavs (Shutterstock).
"The VW scandal shows that we can't trust the car industry to self-regulate. We need the government to enforce independent testing and on-road checking of car makers' claims," says Matt Levey, CHOICE Director of Campaigns and Communications. "Australians should be able to trust car-makers' claims on fuel efficiency and environmental performance." CHOICE's real world testing of people movers and SUVs have revealed five cars which consumed more than 30% more fuel per 100km than their manufacturers' claim, although they do not name the affected vehicles. Instead, they're calling for a complete rework to the testing system for fuel efficiency ratings, which many consumers pay close attention to when purchasing a new car.
This is not just a problem in Australia, but also in the US and Europe where similar dodgy claims have recently come to light. In Europe specifically, research has shown that the gap between real-world fuel performance and manufacturers has climbed up to 40%. Australia is at increased risk from unreliable car maker's claims, however, as our country is one of the few advanced economies that does not have compulsory standards for fuel efficiency or greenhouse emissions. "In 2012, our average greenhouse emissions from new vehicles were 44% higher than Europe," says Mr Levey.
In the wake of these recent revelations, CHOICE has launched its Come Clean campaign, calling for urgent action from both the Australian Government and major car manufacturers. Their four main goals are listed here:
1. VW and other major car manufacturers must come clean on how many Australians are affected by the scandal and offer redress 2. The Australian Government must ensure genuinely independent tests for cars sold here 3. Testing procedures must close the growing gap between laboratory and 'real world' performance 4. Australia must adopt compulsory standards for vehicle fuel efficiency and greenhouse emissions so we don't become a dumping ground for dirty, costly-to-run vehicles