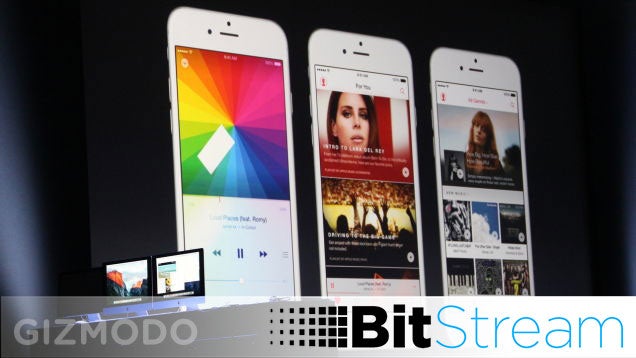 Technology is filled with all kinds of rumours, real and fabricated. It gives us a look at what might be and will be. All The News You Missed Overnight gathers the whispers all in one place to help you catch up.
When Apple enters any kind of business, it tends to turn heads. But when it comes to Apple Music, the company's new music streaming service, it's getting a different kind of attention — the federal trust-busting kind.
Rumours started last week that the Federal Trade Commission was probing into whether Apple Music was doing more harm than good for music streaming competition. Services like Spotify, Rdio and Pandora rely on the iTunes store to reach its iPhone-wielding audience while Apple takes a cut of revenue from those apps themselves.
Now with Apple Music in the mix, things get a little more messy. Essentially, competition feel like they have to charge more adjusting for the "Apple Tax" whereas Apple clearly doesn't charge itself for putting Apple Music on every iPhone running iOS 8.4.
This week, streaming services received subpoenas as the government's investigation continues. The FTC is also receiving support from senators including Al Franken, who wrote a letter urging the FTC and Department of Justice to take a peek at Apple's allegedly anticompetitive practices:
"Increased competition in the music streaming market should mean that consumers will ultimately benefit through more choices of better products and at lower prices. I am concerned, however, that Apple's position as a dominant platform operator may actually undermine many of the potential consumer benefits of its entry into the market."
Although the letter is a little late to get the ball rolling, since the FTC is already mid-probe, Franken and other congressional support for the investigation could ensure that the FTC's probe doesn't extinguish with a fizzle but actually end with some impending legal action if necessary.
It's anyone's guess what this will end up meaning to Apple and its fledgling music streaming platform. The problem is additionally confusing considering iTunes is not the be-all-end-all method of distributing apps (just the most convenient), but despite Apple's wish to avoid another complication in what has already been a bumpy launch, it looks like this annoying antitrust gnat won't be swatted away so easily.
---
Google Glass strikes back: Google's faceputer didn't receive much love as a commercial product, maybe it's better for business. At least that's Google's thinking as it redesigns Glass to be foldable, water resistant, and all-around more rugged so it's more suitable for work. This isn't the dramatic revision of the Glass that we've already heard about, more like a few minor tweaks to make Glass more appealing for a different type of person. [9to5Google]

Welcome to the VR bandwagon, Nokia: Like almost every other technology company out there, Nokia is also testing waters for its own "VR Product." Is it a headset? Controller? Glorified Smartphone Holder like Gear VR? We have no clue. But an ominous invitation only saying "NOWHERE" should tells us much, much more. Or is it "now here?" [Recode]

Apple Car shifts gears: The details surrounding Cupertino's auto ambitions are still pretty elusive, but what's certain is Apple ravenously snatching up auto industry veterans for its electric car cause codenamed "Titan". Hires come from all over the industry including Tesla, European car companies, and University graduate students. We'll have to wait and see what this ragtag team of experts can dream up. [WSJ]
---
What You Might Have Missed on Gizmodo
This James Bond Aston Martin DB-5 Replica Is A $50,000 Toy Car This Mashup Between Star Wars And Mad Max: Fury Road Is Actually Great Top 5: The Best Wi-Fi Routers The 10 Best Slow-Mo Videos The Slow-Mo Guys Have Ever Done Pixels Is A Bad Movie. Like, Really Bad.