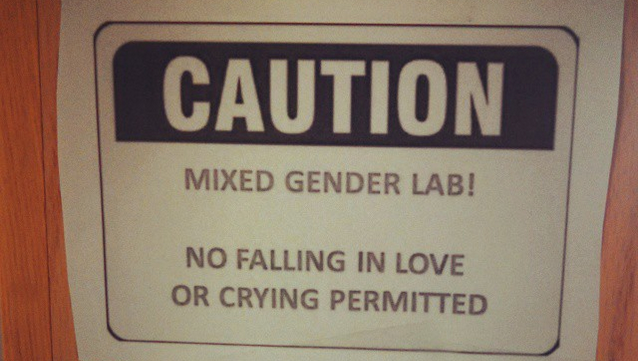 The internets are having fun destroying biochemist Tim Hunt's comments about the "trouble with girls" in laboratories. Using the hashtag #distractinglysexy, people are posting ironic pictures of famed female scientists, while working scientists are taking selfies so hot it's like they're saturated with thermal energy.
Hunt, a Nobel Prize-winning biochemist and British Knight, will have plenty of time to study up on chivalry. He resigned from his position as an honorary professor at University College London earlier this week after the firestorm of criticism around his widely-publicized remarks. Via the Times and Gawker:
"Let me tell you about my trouble with girls," Mr. Hunt told an audience on Monday at the World Conference of Science Journalists in South Korea. "Three things happen when they are in the lab: You fall in love with them, they fall in love with you, and when you criticise them they cry."
Hunt's tone-deaf comments touched a raw nerve in the scientific world, which has struggled with issues of sexism and gender bias. But the reaction from the social internet has been light-hearted, sarcastic, and awesome to watch unfold. Everyone is getting in on #distractinglysexy, including people of every gender, dinosaurs, and laboratory signs. It's a rare instance of the internet uniting around a touchy subject and having fun while also increasing awareness.
Let's take a look. Try not to fall in love, weep, or get too hot and bothered by these ladies doing science work.
I'm really glad that Curie managed to take a break from crying to discover radium and polonium #distractinglysexy pic.twitter.com/txYVHoidK5

— Amy Remeikis (@AmyRemeikis) June 11, 2015
Thank goodness for the cold weather gear, otherwise my male teammates might have fallen in love #distractinglysexy pic.twitter.com/E54pdGJEsd

— Michelle LaRue (@drmichellelarue) June 12, 2015
ICYMI: #DistractinglySexy takes over Twitter | @mashable http://t.co/3syp17Xccp pic.twitter.com/tGEvDEFdm6

— Shit Academics Say (@AcademicsSay) June 12, 2015
Still #distractinglysexy at 60! I like working in contaminated marshes, because the salty water disguises my tears! pic.twitter.com/4EnjH9tSZC

— Jennifer Pournelle (@jpournelle) June 12, 2015
I did an entire Liver Transplant without crying or falling in love. #distractinglysexy pic.twitter.com/6RdApuzFo9

— Want2opr8 (@drtanthony) June 12, 2015
Talk about your #DistractinglySexy females in science: @SUEtheTrex is guilty as charged @FieldMuseum #FossilFriday pic.twitter.com/CvNoPZzsWD

— Jonathan Marcot (@JonathanMarcot) June 12, 2015
1st #distractinglysexy sign I've seen @ibers_aber. Welsh-speaking scientists need more PPE to mitigate extra hazard. pic.twitter.com/iZD25QYBg6

— Arwyn Edwards (@arwynedwards) June 12, 2015
How do my male colleagues publish anything when I show up dressed so revealing? #distractinglysexy pic.twitter.com/D3GYQQciyc

— Van Q. Truong (@vanqtruong) June 12, 2015
I fell in love with the microcentrifuge... typical woman in the lab. #DistractinglySexy pic.twitter.com/JFXZPrjWgv

— Point Mutation (@Point_Mutation) June 11, 2015
Yes I know I am #distractinglysexy in my Level A PPE. The suit totally flatters my curves. pic.twitter.com/LUb5nXx9yO

— Geeky Girl Engineer (@gkygirlengineer) June 11, 2015
Nothing like a sample tube full of cheetah poop to make you #distractinglysexy pic.twitter.com/tdBTLRos4p

— Sarah Durant (@SarahMDurant) June 11, 2015
I had 3 marriage proposals after this talk. Shame I cried too much to accept #distractinglysexy #captioncompetition pic.twitter.com/Bv8yYmKhMK

— Sammie Buzzard (@TreacherousBuzz) June 11, 2015
Guess I can't save the lives of my geological counterparts - I'm too #distractinglysexy to the team. As if! #TimHunt pic.twitter.com/QwXSYPhLQr

— Lisa P to the O (@xLiserx) June 11, 2015
Is that a magnetic wrench in your pocket or are you just happy to see my array? #DistractinglySexy #TimHunt pic.twitter.com/0DtP2S9RJr

— Bailey-Ann (@baileyanns) June 11, 2015
There have been more than 10,000 #distractinglysexy Tweets since the idea went viral, not to mention posts across Facebook, Tumblr and Instagram. The beauty of this hashtag movement is its tongue-in-cheek yet highly effective skewering of Hunt's outdated stance. It's also a rare chance to see the incredible range of women working in badass scientific jobs — a representation that is often lacking in popular culture. I mean, did you see their racks?
Mind you, guys in the lab were always checking out my nice rack...#distractinglysexy #TimHunt pic.twitter.com/xT7jpL0hiE

— laura baxter (@scientist_me) June 10, 2015
Picture: Instagram liana_gloria