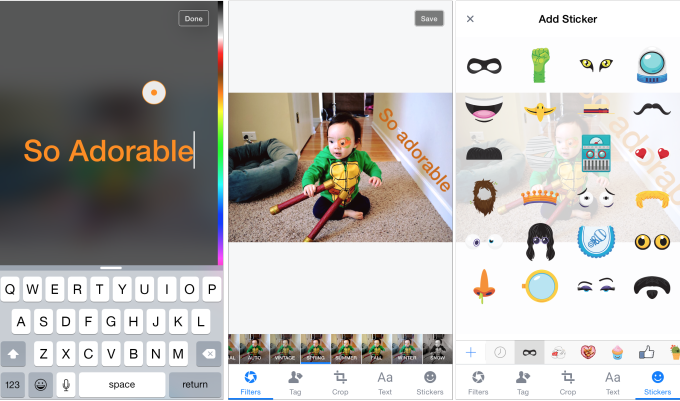 Facebook is testing new Snapchat-style features that allow you to add filters, text and goofy stickers to your photos to, ahem, delight your friends.
TechCrunch reports that the new features are already being tested by some users, as they have been rolled out to a select few installs of the Facebook iOS app. There, they provide the ability to add text, filters and re-sizeable emoji to photographs. TechCrunch explains that you can add Instagram-style filters — such as "Vintage" sepia and golden "Summer", along with automatic colour-correctors — while a magic wand icon opens up a menu for text, cropping, and stickers.
Ever since Facebook tried — and failed — to buy Snapchat, it's attempted to copy the service with the likes of Poke and Slingshot. Those attempts have largely failed, so it seems Zuckerberg & Co might be deciding to cut the losses with direct clones and instead merely include some key features, peppered elsewhere on the social network.
Currently there's no word on whether the features will be rolled out to everyone using Facebook. But if it proves successful, you may have a big more Snapchat-style content in your timeline.