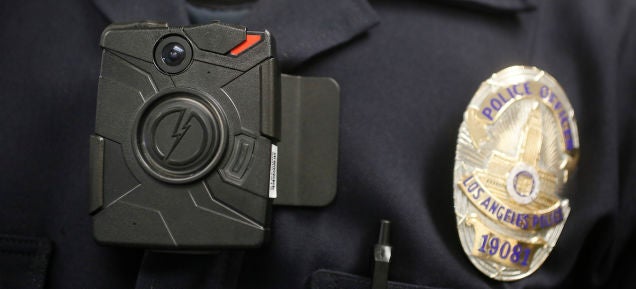 On the heels of rioting over police violence in Baltimore, the US Justice Department announced today that the Obama administration will be giving local police departments $US20 million in grants to buy body cameras for their officers.
The $US20 million is not a small amount of money — it's also the first sum that Congress has approved funding after Obama's proposal to provide $US75 million for police body cams over the next three years.
That said, $US20 million doesn't buy that many police cameras. Los Angeles is spending $US1.5 million to pay for the equipment, storage, and maintenance needed for 860 cameras. So you can extrapolate from that how this first round of Obama grants will probably cover a little over 11,000 body cams. An (obviously outdated) 2008 census from the Department of Justice said that there are just over 590,000 local police officers in the United States. That's not including local sheriffs or marshals, of which there are about 360,000. A number of police departments around the country are already using body cams to some extent or have plans to start.
Still, it marks a clear show of support from Washington for new and somewhat controversial technology. At the end of the day, an officer's body cam would not have seen what happened in the back of the police van, where Freddie Grey sustained fatal injuries. There's also a case to be made that body cams were designed to help police officers get off the hook. But there's no real way to know how much good body cams can do, until we supply more officers with body cams.
[Reuters]