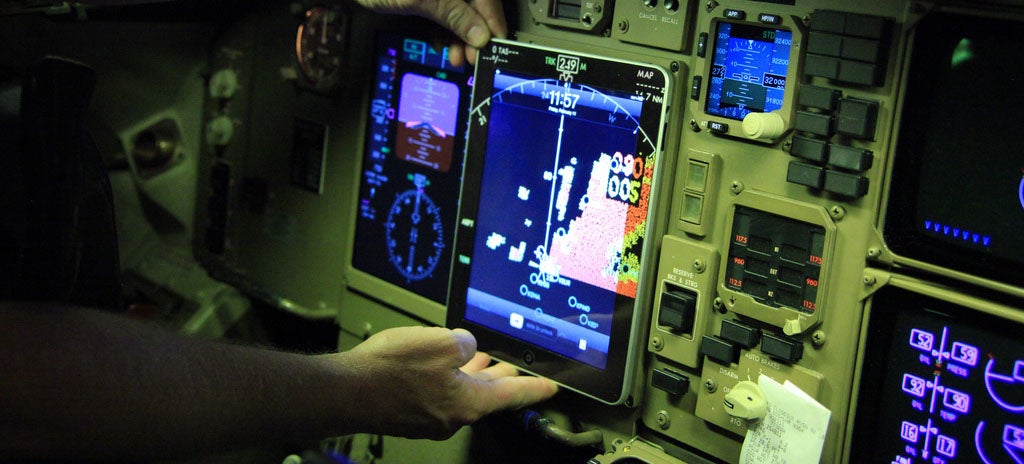 American Airlines has been using iPads in place of paper reference books for several years — but last night, a weakness showed. "Several dozen" of the airline's planes were grounded as pilots' iPads crashed.
In a slew of of tweets, it came to light that the iPads used by pilots instead of the piles of old-school reference books were crashing ahead of take-off, reports Quartz. The software and data that they use are provided by Jeppesen, a sub-division of Boeing Digital Aviation.
Speaking to Quartz, one passenger explained that "the pilot told us when they were getting ready to take off, the iPad screens went blank, both for the captain and copilot, so they didn't have the flight plan." One pilot is reported to have told a passenger that "the entire 737 fleet on American had experienced the same behaviour."
American Airlines took to Twitter to officially admit that the problems were due to iPad crashes:
@bjacaruso Some flights are experiencing an issue with a software application on pilot iPads. We'll have info about your departure soon.

— American Airlines (@AmericanAir) April 29, 2015
Andrea Huguely, American Airlines director of corporate communications, told USA Today that "in some cases, the flight has had to return to the gate to access a Wi-Fi connection to fix the issue." It remains to be seen whether the problem has been properly fixed, but we've reached out to American Airlines to find out. Until then, it may for pilots to pack some dead trees in their bag. [USA Today, Quartz]
Picture: Kent Wien/Flickr