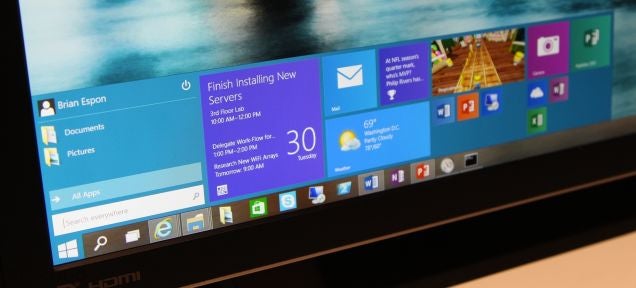 Microsoft has announced that it will give be giving free upgrades of Windows 10 to anyone who uses Windows right now — even if they're currently running pirated copies of the operating system.
Speaking to Reuters, Microsoft's operating system chief Terry Myerson explained from China that Microsoft will be "upgrading all qualified PCs, genuine and non-genuine, to Windows 10." (It's not yet exactly clear as to what counts as "qualified"; we've reached out to Microsoft to find out.) The move is apparently an attempt to "re-engage" users that currently run pirated software in China. Illegal version of Windows are a huge problem there: recent estimates suggest that 75 per cent of PCs in the country run pirated copies of the OS.
Update: There are conflicting reports online about whether the free upgrade will be limited to China or not. We're still waiting for Microsoft to get back to us to confirm exactly what the deal is.
Update 2: We've not heard back from Microsoft yet, but The Verge has — and it's good news for any pirate out there, wherever you are. In a statement issued to them, Microsoft explained that "[a]nyone with a qualified device can upgrade to Windows 10, including those with pirated copies of Windows. We believe customers over time will realise the value of properly licensing Windows and we will make it easy for them to move to legitimate copies."
Microsoft has already announced that upgrades to Windows 10 will be free for the first year, aligning with the Apple strategy of making the OS essentially a free product. To bring everyone in line, it makes sense to offer the same upgrade to pirated copies — even if it does feel a little like rewarding bad behaviour. We found out yesterday that Windows 10 will be available in the Australian winter. [Reuters on Re/code]