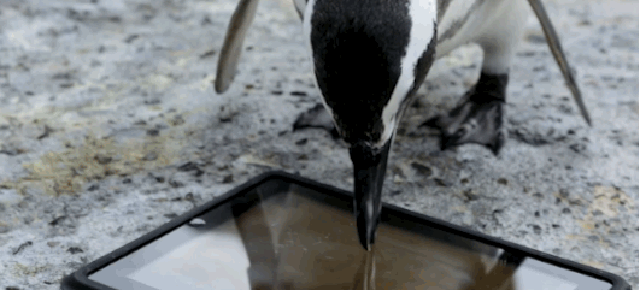 Watching animals use gadgets is always fun. So amid the hubbub of CES announcements and the drudgery that is the first working Monday of 2015, why not settle back and watch some penguins play with an iPad?
The video shows Magellanic penguins at California's Aquarium of the Pacific getting involved with the tablet. Sara Mandel, who made this wonderful thing happen, explains:
"I was pretty new to the position so I decided, 'I wonder if they will play with this game?' And I put it down and he just starting biting it and messing with it. And then [penguins] Newsom and Jeremy became obsessed with it. And that was actually the year that he [nearby penguin] was born, so I must have done something right because we got Anderson and Heidi out of it."
Clearly, playing with an iPad can health benefits. If you're a penguin. [Cool Hunting via Fast Company via The Verge]