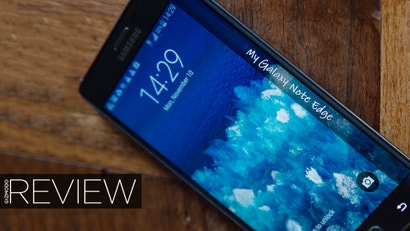 I love it when a big company experiments with cool gear. The last cool mobile experiment we were allowed to pay money for was LG's curved G-Flex. This time it's Samsung experimenting out loud with the Samsung Galaxy Note Edge. Like all experiments, however, this has a few pretty glaring issues.
Gizmodo loves technology. Our product reviews are presented thanks to Dick Smith.
What Is It?
Specifications
Processor: 2.7GHz quad-core Qualcomm Snapdragon 805 processor
RAM: 3GB
Screen: 5.6-inch 2560x1600 Super AMOLED, 524ppi
Memory: 32GB, expandable up to 128GB
Camera: 16-megapixel rear-facing, 3.7-megapixel front-facing
Connectivity: 4G Cat 6 + Carrier Aggregation, Bluetooth 4.0, NFC,
A Galaxy Note 4 with a bonus screen curved around the right-hand side of the device.
No really. That's what it is.
Instead of a 5.7-inch screen (measured diagonally), you get a 5.6-inch qHD+ SuperAMOLED screen. The total resolution, including the edge panel (read: the screen on the side), it's 2560x1600. That makes the edge panel a 160-pixel bit of kit that curves its way around onto the side of the phone.
Other than that, everything is pretty much the same: the Note Edge packs a 2.7GHz Qualcomm Snapdragon 805 processor, 3GB of RAM, 32GB of internal memory (expandable up to 128GB with a microSD card) and a 16-megapixel rear-facing camera.
All up, it's going to cost you $1199, as opposed to $949 for the garden-variety Galaxy Note 4.
What's Good?
Pretty much all the positive stuff I have to say about the Note Edge is similar to the praise given to the Note 4. At the end of the day, they're both the same phone, it's just the Note Edge has a nifty little gimmick on the side, which we'll touch on in a minute.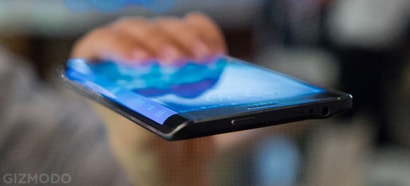 The 2560×1660 panel is gorgeous, and renders colours beautifully. The only panel that equals it is the inside the LG G3, and that's only 5.5-inches in size rather than the Note 4′s 5.6-inch footprint. Which means you've read that correctly: if you want unparalleled screen perfection inside a phablet, don't buy the iPhone 6 Plus, buy this. While that's a little simplistic, it's on the money.
That screen gives way to what is as close to stock Android as Samsung has ever shipped. TouchWiz is very much out of your way this time around, meaning you can play with Android 4.4.4 all you like. The best thing about the stripped-out TouchWiz version is that you can move every icon around to wherever you like, with just a single long press. No more locked down docks that we slapped the Note 3 for when it came out. Huzzah!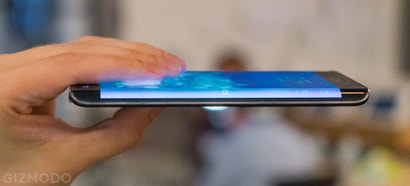 After fixing how intrusive TouchWiz was, Samsung decided to have a crack at a few other dodgy software issues on the Note before releasing it, and as a result, it managed to build a half-decent keyboard for a change. Normally the first thing I do after getting the absolute shits with the stock keyboard is install the Google Keyboard app, but this one is actually half decent. It has more space between the keys and no annoying clacky keyboard noise.
The Note Edge′s camera is, for the most part, the same 16MP shooter you'll find in the Galaxy S5 when it comes to image quality. That is to say that its pictures have a tendency to wind up a little oversaturated and a little heavy on the contrast, but still fine — damn good even — for a mobile phone camera. At least so long as the lights are on; like the S5, the Note Edge doesn't do too well under low light conditions. You can read a bit more about how the sensor in the S5 holds up to the competition in our big smartphone camera roundup, which helps put the Note 4 into context.
The S-Pen is back for another go-around on the Note Edge, and it performs admirably as a note-taker, screen-clipper and picture-doodler.
The most unique feature of the Note Edge is the edge panel. It has both good and bad qualities, which we'll go into separately.
I love a clean interface, and the edge panel allows you to store app icon shortcuts that would normally clog up the home screen. Right now, I have all of my most used apps sitting on the main side panel, and I'm able to quickly swipe between an S-Health widget bar that shows me how many steps I've done so far today, and a Yahoo! news ticker which, to be honest does very little. As a result, I have a home screen free of clutter which I love.
Samsung has also moved most of its notifications onto the side panel as well, which makes for a fun little experience when you get an interaction on Twitter, Facebook or have an appointment coming up. Plus, at night you can set it so the screen stays ever so slightly dimmed with a clock on it. If you're someone who sets a phone down on a bedside table, it's great to look over to at a glance.
Other apps from Samsung also have special side panel functions, but the one I like most is the camera. Instead of putting the controls all over the screen or interrupting the physical design with a clickable camera button, Samsung has shunted the shutter controls onto the side panel, which makes for such a great camera experience.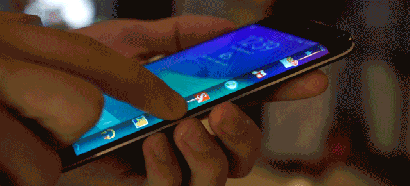 There's so much potential here. Imagine a live news ticker or a social ticker (for more than just trending topics) that scrolls updates live as they happen. Or using it as the surface for a fingerprint reader under the screen (if that's even possible) instead of under the home button? It's a fun little add-on that developers could come up with great stuff for, but probably won't.
What's Bad?
Despite the fact that it's almost a carbon copy of a Note 4, the Note Edge has retained the slightly tacky, plastic-laden build from previous generations of Galaxy devices. And that's slightly weird.
You see, both the Note 4 and the Note Edge feature the metal band design first spied on the Galaxy Alpha. That makes the Note 4 look and feel like a premium bit of kit, but on the Note Edge, the material doesn't feel as solid, and to top it off there's quite a bit of panel gap, like you might see on a poorly-built car.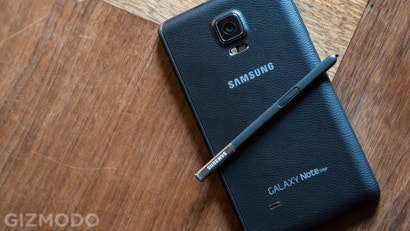 The back panel on the Note 4 looks seamless and beautiful, but the gaps are quite obvious on the Edge, making the whole thing look less than flush. On top of that, the back panel feels almost waxier then the Note 4's and in turn, more fake and tacky. Overall, it just feels like it's carrying unnecessary flab.
It also feels like the software design team at Samsung didn't think through what putting an additional half-inch of screen would do to the TouchWiz overlay. Go through a few different menus and settings panes and you'll quickly realise that the phone doesn't know when it should be prioritising the edge panel over the content on the main screen. It's particularly apparent on Android's pull-down notifications panel.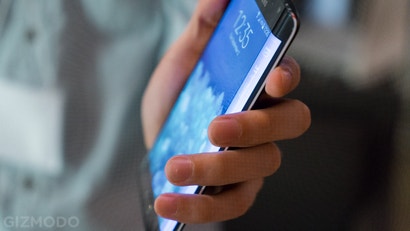 For the majority of the time, though, the edge panel will be off. Seriously. When you go into an menu, a settings pane or an app that doesn't support it (which is most of them), the screen just turns itself off. You can go and change what the edge panel does when it's inactive in the settings by making it display a pretty message or photo, but it's just unnecessary trimming that will only serve to remind you that you've paid an extra $250 for a gimmick.
It's not a bad phone, it's just a half-realised experiment.
Should You Buy It?
Right now? It's tough to say this, but no.
Samsung have done something genuinely innovative with this device, and it has some great potential, but right now it offers little benefit to the end-user. At the same time, the features it does have feel fragmented, rushed and kind of poor overall.
This isn't to say that it's a bad device overall: it's based on the Galaxy Note 4, which is a great phone. We loved it when we reviewed it. If you want a Samsung phablet that's well thought out, looks great and works even better, go for that one and save the extra $300 you would have spent on the Edge.