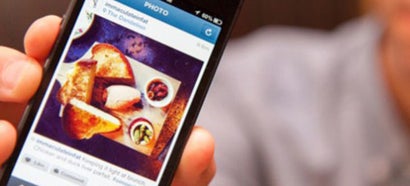 Not all Instagram accounts were created equal. Some are filled with ethereal, dreamy images that capture beauty, motivate positivity and inspire wanderlust. And some exist simply to ridicule in the most politically incorrect way possible.
Because I'm terrible person, I definitely prefer the second kind. In fact, most of my Instagram feed is pictures of sarcastic quotes or offensively captioned images - I follow too many satirical accounts to count and it's the best. The LOLs are numerous and endless.
I thought I would share with you a few particular favourites of mine so you can LOL too.
Please note though, you have to be a horrible person, or at least have a pretty rotten sense of humour, to enjoy them.
Cooking For Bae
The first time I set eyes upon Cooking For Bae, I simultaneously laughed and gagged for about an hour. In short it features images of vomit-inducing food that people cooked for their before-anyone-else that they then thought were Instagram worthy. Check it out, hilarity and gagging will ensue.
---
Texts From Last Night
This account is devoted solely to the embarrassing texts people send about their drunken, terrible decisions. Nothing makes you feel better about your poor life choices than reading about someone else's poor life choices.
---
Satiregram
Trending Stories Right Now

Video. If you've ever wanted to hear Robin say "Fuck Batman" before knocking the hell out of and killing a couple of street-level criminals, then allow us to show you the very first trailer for DC Universe's upcoming live-action Titans series. Suffice to say that Teen Titans Go!, this is not.

British police have reportedly identified two suspects in the nerve agent poisonings that left one person dead and three others injured. The suspects were identified after UK police combed through "months" of surveillance footage at British airports, as well as security camera footage from around Salisbury.