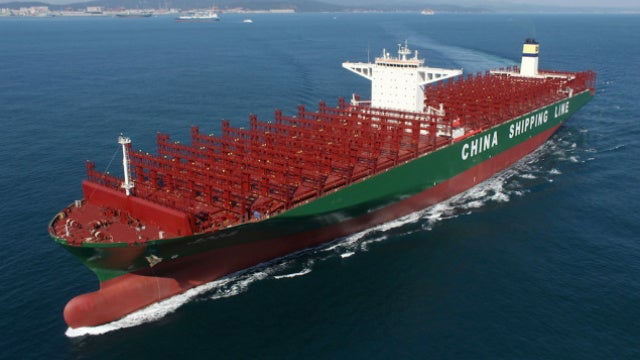 In order to keep up with the frenetic growth of global shipping traffic — which has quadrupled over the past two decades alone — commercial cargo ships keep getting bigger. And the newest king of the containerships isn't one of Maersk's EEE titans, it's the CSCL Globe.
The existing cargo ship record holder, in terms of capacity, is the MV Maersk Maersk. It holds a whopping 18,000 TEU (6m equivalent unit) shipping containers and beat out the older, 16,020 TEU MV CMA CMG cargo ship for the title in 2013. The new CSCL Globe from Hyundai Heavy Industries, however, will eek out an additional 1000 TEUs — 19,000 TEU in all — once it's delivered to its new owner, China Shipping Container Lines (CSCL), in the coming weeks.
The CSCL Globe is the first of an upcoming fleet of four such $US175 million vessels that the company plans to operate throughout the Pacific. The Globe measures more than 400m long, almost 60m wide, 30m deep, and weighs 166,000 tonnes. It's powered by a single 94,791hp MAN B&W 12-cylinder diesel engine. That's not quite as powerful as the RTA96-C, but the Globe's engine incorporates an electronically-controlled throttle that takes the ship's relative speed and the prevailing ocean conditions into account to offer increased fuel efficiency rates. In fact, the Globe's engine burns 20 per cent less fuel per TEU than a cargo ship roughly half its size, even when travelling at its 16-knot top speed.
The Globe's three sister ships should be delivered by 2015, though with the rate at which even larger ships are being designed — there's already talk of 25,000 TEU behemoths — they probably won't be holding onto the title of "world's largest cargo ship" for very long. [GCapt - Tradewind News - IHS Maritime - Marine Insight]