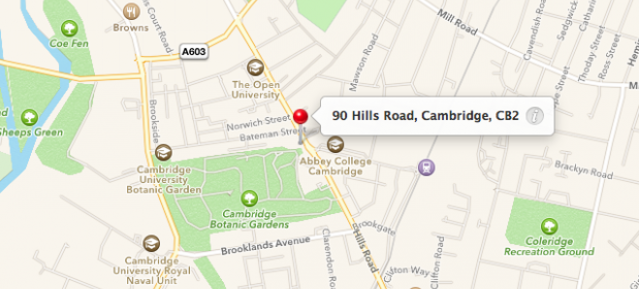 I'm sure there are some benefits in being based in Cupertino, California. But in an effort to build its international presence beyond its home base, Apple is looking to establish a new research and development centre in Cambridge, England.
Apple is currently said to be eyeing up a 840sqm property on 90 Hills Road in the university town. Cambridge has become something of a tech hub in recent years — Apple partner ARM has operations there, as does Qualcomm after its buyout of CSR. That's before you take into account smaller firms and the plentiful engineering talent pouring out of the university.
In addition to the new facility, Apple's hired a number of UK developers too, formerly of Caffeinehit, the defunct startup behind mapping app Pin Drop. It's picked up five new staff members, presumably to be based at the new Cambridge site, and likely brought in to bolster Apple's shaky Maps proposition.
Apple's UK push follows a similar charge from Google, which has set up shop in rival university town Oxford, where it is pumping money into AI research. Google also this year acquired UK-based Deep Mind, another AI-focussed company. [TechCrunch]
Gizmodo UK is gobbling up the news in a different timezone — so check them out if you need another Giz fix.