Want to explore the muddiest and messiest of the marshlands, without getting stuck chest-deep in the mud screaming "Artax! No!"? This is the 21st century, so naturally there is an insane machine that will get the job done with obscene power and style. Let the Shaman take you on a vision quest.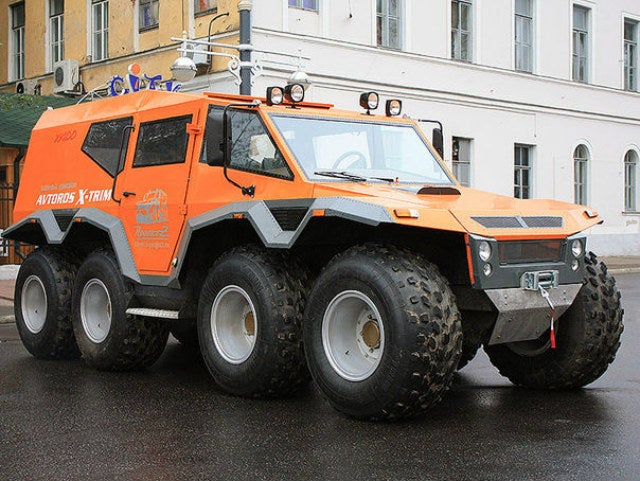 Designed and constructed by Russian custom builders Avtoros, the Shaman is a total beast. It measures 6m in length, standing 3m tall and 2.5m wide with a 450mm ground clearance. The vehicle is powered by a 146hp 3.0-litre turbo diesel with a six-speed manual that delivers a top speed of 80km/h. The 130hp petrol engine as well as a pair of larger 178hp and 240hp diesel engines are optional. And while that's a bit pokey to take on your local freeway but this vehicle is clearly not built for the stuffy confines of civilisation — or even roads for that matter — you only need to look at its steering system.
For one thing, the driver doesn't not steer the vehicle from either the left or right hand as most passenger cars do. Instead, he sits dead centre of the console in a huge "captain's chair" that provides a commanding view of the surroundings. What's more, the Shaman has three drive settings: one for On-Road (front 4WD), one for Off-Road (active rear-wheel steering for tighter turns and better control), and "Crab Mode" which activates the eight-wheel drive, allowing you to scuttle over just about anything — including traversing a 45-degree angle while hauling 1.4 tonnes of cargo and seven other passengers.
Most amazingly, even with a dry weight of 2.3 tonnes, the Shaman is actually buoyant and can travel through water at speeds up to 7km/h or simply float down river. If you were looking for a vehicle for the end of the world, this has got to be your first choice.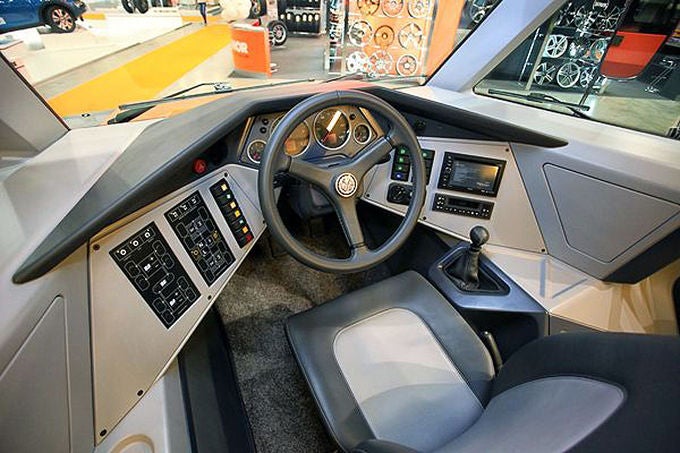 The Shaman does have its drawbacks, mind you. Since it's a custom-built mechanical monstrosity from Russia, getting your hands on a Shaman can be tricky. Each one is built from scratch when you order it, which translates into a two month waiting period before delivery. And with more than a dozen customisation options — from power train to interior trim — you could wind up spending a small fortune on it. Of course, if you're in the market for an eight-wheeled luxury SUV, there's a good chance you've already got one. [Avtoros - Hiconsumption - 4WheelFun]
Pictures: Avtoros