More than any other gadget (yes, even smartphones), battery life for smartwatches are a huge selling point. Instead of being just another gadget tethered to another cord or charging dock, a longer battery life means more convenience for a wearable that for the past century never really required charging.

Motorola advertised the new Moto 360, arguably the most well-designed smartwatch, as having a 320mAh battery, slightly larger than the Samsung Gear Live but not as beefy as the G Watch's 400mAh battery. However, iFixit's teardown of the Moto 360 revealed that there's actually only 300mAh battery inside its casing.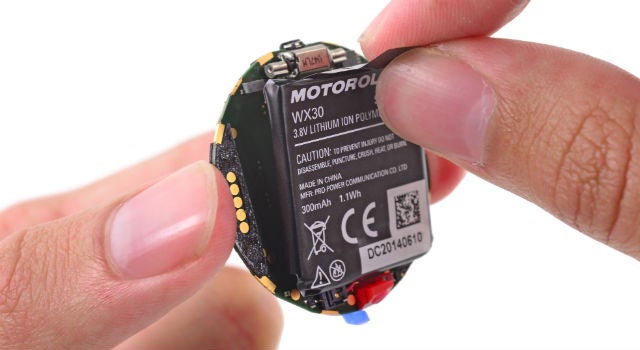 Although the reason for this marketing duplicity is unknown, our own real-world tests of the Moto 360 show that the wristwatch is capable of getting through the entire day, and if on the right settings, a full 24 hours. The Moto 360 is also the first Android Wear timepiece with an ambient light sensor, so whether you're an outdoors person or a shut-in could also affect overall performance.
iFixit's smartwatch surgery rated the repairability of the Moto 360 with a paltry 3 out of 10. So if you somehow get through the wearable's IP67 water-resistant rating or another disaster befalls your 360, you might be out of luck. [iFixit]