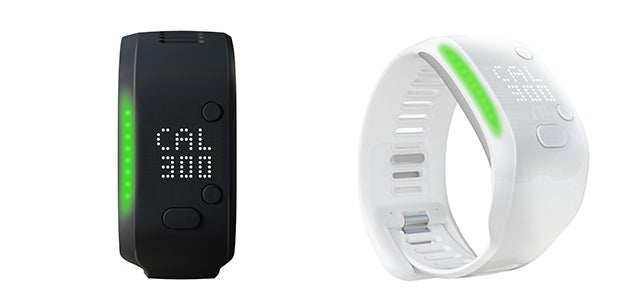 The Adidas Fit Smart might seem like just another fitness tracker, and in many ways it is. But the app-and-watch combo also features a handy a colour-coded gauge that shows just how hard you're exerting yourself. No more slacking, slacker.
This isn't Adidas's first foray into fitness tracking, but it's more in line with what people expect from a wrist tracker. Fit Smart measures heart rate, calories burned, pace, distance covered and stride rate in real time. The LED strip running down the side of the face acts as a sort of effort-o-meter, illuminating blue, green, yellow or red with the intensity of your workout. Vibration prompts tell you when you've hit your performance targets without having to look at your wrist.
Combined with Adidas's mobile app, the Fit Smart promises to help athletes set and track progress toward weekly goals and long-term training plans. The miCoach Train and Run app connects via Bluetooth LE, and will be updated in August to coincide with the Fit Smart's release.
Unlike otherfitness-trackingsmartwatches though, Adidas doesn't envision the Fit Smart as an all-day-wear piece of wrist technology. The device stores up to 10 hours of workout data, with matching battery life, so unlike, say, a FitBit, you'll need to start and stop tracking if you don't want hours of meaningless heart rate graphs while sitting at your desk.
We haven't had the chance to play with Fit Smart yet — it's only just been announced — but it seems like the at-a-glance colour-coded intensity gauge and vibrating notifications might be handy enough to outweigh the fact that this isn't a strap-it-on-and-forget-it wristable. If that's your kind of jam, the Fit Smart hits shelves in late August for $US200.