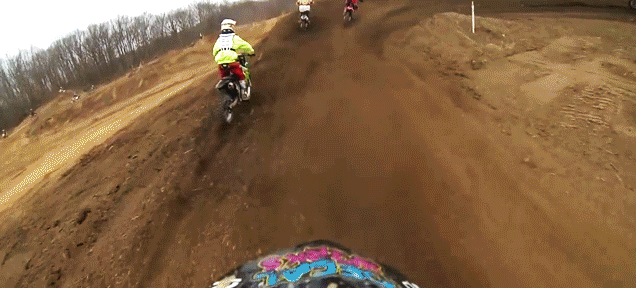 This unfortunate motocross rider appeared to misread a corner and throttled at just the wrong moment during a race in the US state of New Jersey. He ended up being propelled into the top of a tree and — according to comments left at the end of this YouTube clip — survived with some serious injuries.
The rider, identified in comments as Justin McTamney, reportedly suffered a collapsed lung, a broken scapula and at least four broken vertebrates. In spite of this, Justin is said to be planning on returning to racing soon.
Motocross is a highly physical and exhilarating sport even when bikes do stay on the track. The dramatic crash happened at the Oldbrige Township Raceway Park in Englishtown, New Jersey. It is a tough course with about a mile of changing surface — including packed dirt and sand — and is full of jumps, corners, and other obstacles. With up to 40 riders in any race, it takes a high level of skill, concentration, physical toughness and determination just to compete, let alone to win.