For a time in the Vaudeville Era, few theatre districts outside of Broadway were hotter than Cleveland, Ohio's. But as the decades rolled on and times changed, the district fell upon hard times. But now, after a concerted revitalisation effort, the the crown jewel of the district is back in business — and it sports the world's largest outdoor chandelier to prove it.
Back in the early 1920s, construction began on what would quickly become the second largest theatre complex in America (only NYC's Lincoln Center is bigger), Playhouse Square. However, the trifecta of World War II rationing, post-war suburbanisation, and the advent of mass media (looking at you, TV) decimated interest in the theatre and by 1969 all but one theatre in Playhouse Square had been shut down. The entire site was growing into a public blight, having suffered through years of fires and vandalism.
However, a near immediate grassroots effort started in 1970 by public school employee Raymond K. Shepardson quickly grew into a cultural and social movement aimed at preserving and renovating the once-proud landmark rather than razing it, as had been suggested. By 1978, the Playhouse was inducted into the National Register of Historic Places.
Throughout the 1970s and '80s, a mix of public and private funds totaling nearly $US40 million dollars went into restoring Playhouse Square. The completion of the old Ohio Theatre (which was practically destroyed in a 1964 fire), as well as the State and Palace theatres in the mid-1980s in turn spurred on more development, including a Wyndham hotel and $US40 million Renaissance Office Building.
The performing arts centre even went so far as to start its own real estate division to buy up sagging lots in the neighbourhood and revitalise them, helping to rebuild Cleveland's flagging economy and community. Now, local television and radio stations headquarter in the neighbourhood, the Cleveland Play House and Cleveland State University's Department of Theatre and Dance call PlayhouseSquare home, and the complex hosts more than a million visitors and 1000 performances every year.
And visitors always know when they have arrived — they'd have to be blind not to. See, outside of the new Playhouse Square, city officials recently unveiled the district entrance's centrepiece: the world's largest permanent crystal chandelier, one in the same grand style as those found in the theatre's lobbies.
Comprised of more than 4200 crystals and illuminated by 70 GE LED Infusion Modules, the 6m tall crystalline (actually acrylic resin, not glass) structure is suspended from steel trusses some 13m off the ground at the corner of E. 14th St and Euclid Ave.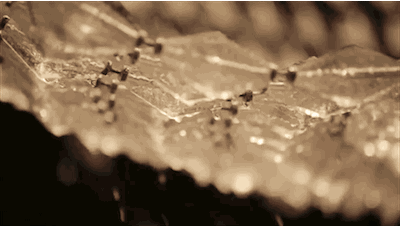 And don't worry about the snow. This installation has been designed specifically to cope with the frigid conditions presented by Cleveland's harsh winters and has been thoroughly stress tested.
Of course, even this massive structure can't compare to the world's largest overall chandelier. The monstrous Reflective Flow, built by Beau McClellan for the property developerMr. Ali Bin Khalifa Al Hitmi, measures 6m tall, 12m wide and 38m long — it's comprised of 165,000 LEDs. [Playhouse Square - GE - Guinness World Records - Wiki ]