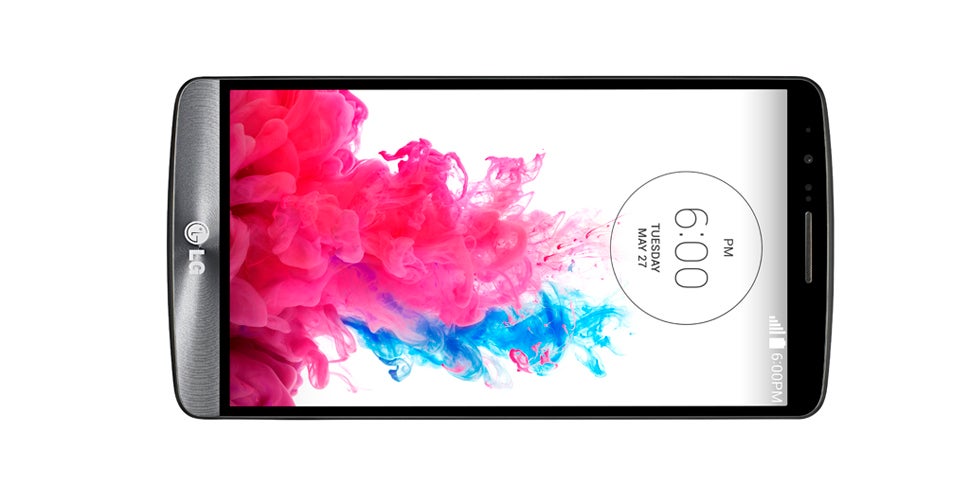 Today, LG is dumping the details on its latest Android flagship, the G3, which follows last year's promising — and disappointing — top tier smartphone. This year's model antes up on screen size and power, but does it have the brains to match?
The LG G3 has a 5.5-inch Quad HD (2560 x 1440) display — that's a pretty significant screen size increase from last year's 5.2-inch model. It's also significantly larger than the phone's Android competitors, the Samsung Galaxy S5 (5.1 inches), HTC One (5 inches), and the Nexus 5 (4.95 inches). The G3 got higher resolution than its 1920 x 1080 rivals, and importantly, its 538 pixels per inch is much denser, which should make the screen crisper and easier to read. A large 3000mAh battery should do a decent job of keeping those pixels illuminated for a good part of the day.
The G2's slamming hardware was one of it's major selling points, and the G3's new "floating arc" design looks like it could be an enticing addition to the G2's one rear button design. The phone's body has a subtle arc that should make it's larger body easier to grip, despite it's large size.
The phone measures 146mm x 74mm x 9mm. As a point of comparison the Galaxy S5 measures 142mm x 72mm x 8mm. In other words, LG is getting a bunch more screen real estate while only adding a little bit to the body's overall mass.
As before, the G3 uses a top 2.5GHz quad-core Qualcomm Snapdragon 801 processor and has 2GB of RAM that will make it a scorcher, but if it's going to set itself apart from last year's powerful model, it will need software that channels that muscle into a usable product.
The LG G2 was unusable because it's Android skin was a mess. This time around, LG is promising a simplified user experience with a flat design and a more streamlined UI. The company has incorporated three big software additions to its keyboard, notifications and security which have all be dubbed "smart". The keyboard is designed to be simpler so that you're moving your thumbs and your eyes less as you hammer out text on the phone. The "Smart Notice" software is basically an assistant like Google Now that's far less sophisticated, but has nice touches, like a cleaning feature that helps you get rid of apps that you haven't use in a while. The security, like a remote wipe, features seem super basic. All of these software features, in fact, seem like very fancy names for obvious tools we've seen in some form or another before — we'll reserve final judgment for when we get our hands on the phone.
As with last year's model, the G3 has a 13MP rear-camera with a new "laser focus" system that, like HTC's new Duo camera, uses a second optical system speed up the camera's focus performance. (The tech behind this isn't really new, it's just new to smartphone cameras.) Like several phones in the last year, the G3 has a dual flash that blends different colour LED beams for more realistic colour.
Overall, it seems like LG has taken some of the criticisms of the G3's predecessor in stride, and built on its previous successes to try to make an appealing alternative to blockbuster competitors. We'll be getting our hands on the G3 in a few minutes so we should have at least preliminary evaluation of how the large, beautiful phone holds up.