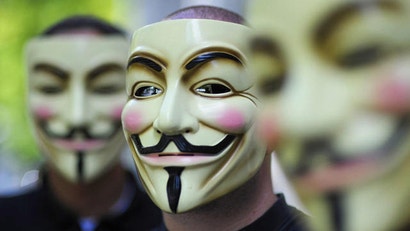 The Australian Federal Police is out to teach alleged hackers a lesson, and after a lengthy investigation, it has arrested what it claims are two members of Anonymous.
The AFP this morning proclaimed that it had the two alleged hackers in custody: one from Sydney and one from Western Australia.
Their alleged crimes? Targeting Australian and international networks for intrusion, data theft and disruption.
The 40-year old WA man has been charged with aiding the unauthorised modification of Melbourne IT's network in Brisbane, and unauthorised modification of Indonesian Government web servers. Meanwhile, the 18-year old Sydney man was charged with unauthorised modification of data to Netspeed ISP in Canberra and unauthorised access to and modification of data belonging to the ACT Long Service Board.
The AFP executed search warrants on the homes of the two men last night, seizing hard drives and other equipment.
The two men will go before a judge today.