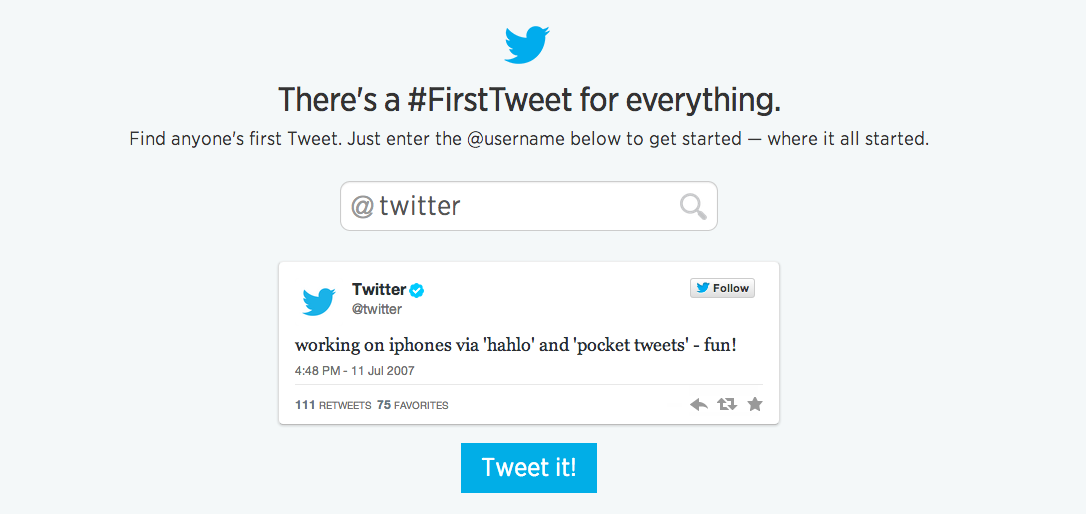 Today is Twitter's 8th birthday and it got you a gift. With Twitter's new First Tweet tool you can look back at your (or anyone else's) first tweet without hours upon hours of scrolling. We took the liberty to round-up a few of the best and worst from some noteworthy tweeters.
HI TWITTERS . THANK YOU FOR A WARM WELCOME. FEELING REALLY 21st CENTURY . — Oprah Winfrey (@Oprah) April 17, 2009
NEW SONG AND VISUAL FROM MY NEW ALBUM BEING PROJECTED TONIGHT ACROSS THE GLOBE ON 66 BUILDINGS, LOCATIONS @ http://t.co/7BZwfPawwZ — KANYE WEST (@kanyewest) May 18, 2013
Attending events in Iowa — ChuckGrassley (@ChuckGrassley) November 26, 2007
no — wint (@dril) September 15, 2008
Check out my single "ONE TIME" on my myspace and spread the word for me. Thanks www.myspace.com/justinbieber — Justin Bieber (@justinbieber) May 12, 2009
getting ready for cabo — Anthony De Rosa (@AntDeRosa) March 14, 2007
Just got into Berlin... feeling better thank you, have my vicks inhaler by my bedside... and P.S. I TWITTTTER! GAH. Such a follower! — Katy Perry (@katyperry) February 21, 2009
Thinking we're only one signature away from ending the war in Iraq. Learn more at http://www.barackobama.com — Barack Obama (@BarackObama) April 29, 2007
op rehearsing for my video just dance and am now at wmc to perform at the Armani and nervous records party. But I am no nervous record! ... — Lady Gaga (@ladygaga) March 27, 2008
@TeamKardashians OMG your background is FIRE!!!! I want my pics bigger I think, will u help me? — Kim Kardashian (@KimKardashian) October 25, 2008
working on iphones via 'hahlo' and 'pocket tweets' - fun! — Twitter (@twitter) July 11, 2007
Hey, guys... so who is on this thing? — Nick Denton (@nicknotned) December 11, 2006
Headed to PhotoPlus Expo in the morning.... — David Pogue (@Pogue) October 19, 2007
Without Health Benefits, a Good Life Turns Fragile http://shurl.org/bVmbZ — The New York Times (@nytimes) March 5, 2007
Apple is opening up the iPhone SDK. I'm stoked! — Gizmodo (@Gizmodo) October 17, 2007
[Facebook Blog] Make Your Voice Heard: Vote!: Technology is giving more and more people a.. http://tinyurl.com/44fr5z — Facebook (@facebook) September 26, 2008
Please ignore prior tweets, as that was someone pretending to be me :) This is actually me. — Elon Musk (@elonmusk) June 4, 2010
just setting up my twttr — Jack Dorsey (@jack) March 21, 2006
I'm about to go onstage in Minneapolis. After I finish my tuna melt and go pee — rob delaney (@robdelaney) February 27, 2009
Yeesh, Ape-lad. Is it not enough that I blog? — John Hodgman (@hodgman) April 10, 2008
I hope the 17 fans on my Geocities page follow me here. — Patton Oswalt (@pattonoswalt) May 1, 2010
I just signed on to Twitter today. Don't want it or need it, but don't wanna be out of the action! — stan lee (@TheRealStanLee) August 13, 2009
"Hello World." Hard at work on my foundation letter - publishing on 1/25. — Bill Gates (@BillGates) January 19, 2010
Today I interviewed a squirrel in my backyard and then threw to commercial. Somebody help me. — Conan O'Brien (@ConanOBrien) February 24, 2010
I'm 01100110 01100101 01100101 01101100 01101001 01101110 01100111 00100000 01101100 01110101 01100011 01101011 01111001 00001010

— A Googler (@google) February 26, 2009
And we'll let current Twitter CEO Dick Costolo have the last word:
Dick costolo — dick costolo (@dickc) May 28, 2007
And that, of course, is only the beginning. We're only scratching the surface here. Please, leave your favourite hidden gems below, and we'll keep beefing up this list as we think of more people to embarrass!