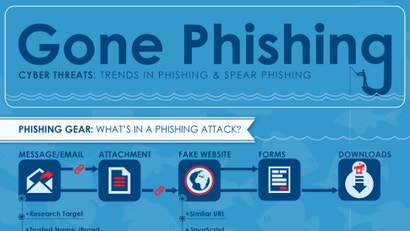 At this point we pretty much all know what phishing emails look like and we're resigned to the fact that we didn't win the Micronesian lottery. We also know that we can't buy a machine to instantly enlarge our sexual organs no matter how much personal information we provide.
It was tough but we all came together in the mid-2000s and got wise to the whole thing. But "spear phishing" is a different story. The whole point is to intelligently target individuals or like-minded groups.
Spear phishing banners, links and messages use personalised specifics and are designed with legitimacy in mind. Phishers do especially well if they can trick employees of a large company or members of a major organisation and then capitalise on the administrative privileges of those users' accounts.
This infographic from security recruiter Via Resource shows how phishing and spear phishing attacks continue to spread and highlights vulnerable parts of the web. [Via Resource Blog]